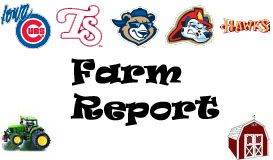 Last week we gave the ugly update on the VFTB's Top 20 prospects. This week we'll try and be a bit more positive and look at the leaders in on-base percentage. It's led by none other than Anthony Rizzo, who continues to dominate AAA. In 592 plate appearances across the last two seasons, Rizzo is destroying the PCL to the tune of 335/407/661 with 40 doubles, 40 home runs, and 140 RBI.
The OBP list: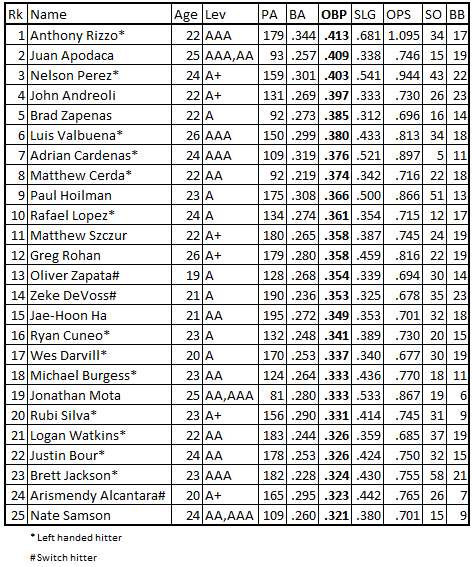 You might be looking at this list and thinking to yourself, "Who the heck are these guys?" I don't blame ya. A lot of these minor leaguers are just organization filler with no hope of ever seeing Wrigley Field. It's great that Daytona has Greg Rohan hitting 280/358/459, but he's a 26 year old minor league veteran playing against guys 3 and 4 years younger. So let's skim through the list and touch on the players you may have actually heard of.
Luis Valbuena is not a prospect, having accumulated over 800 plate appearances in the majors, but he has a slim chance of seeing time with the big league club. He's not good, so don't let the AAA numbers for this year fool you. He's a September roster expansion possibility and that's only if he somehow gets added to the 40 man roster. Although on this team, he might get some regular playing time.
Matt Cerda was a 4th round pick back in the 2008 draft. He's split time at 2B and 3B, and his one offensive skill is that he can take a walk. He might get a cup of coffee, but more likely than not, Cerda is a career minor leaguer.
You may have heard of Paul Hoilman when he had his long hitting streak this year (I believe it ended at 23 games), but he's also a guy that probably won't sniff the big leagues. He plays 1B, and to be a 1B in the majors you need to be a pretty good bat. He's struck out 51 times as a 23 year old in A-ball, and unfortunately, that's not a sign of a pretty good bat.
Finally, down at #11 on our list, a potential major league contributor in Matt Szczur. He's significantly improved his walk rate this year and has stolen 18/24 bases. His strikeout rate is solid, but he doesn't hit for much power. The nationally known prospect guru's are split on him. Some see him developing into an everyday centerfielder that can leadoff and steal bases while others see a speedy, slap hitting 4th outfielder. I lean with the slap hitting side, but his May numbers, 313/384/484, are a step in the right direction.
2011 3rd round pick Zeke DeVoss had a good looking debut with a .449 OBP, but he was a college player in short season Boise. This year, his numbers have fallen considerably, and despite a solid .353 OBP this year, he'll need to hit a bit more to be a top of the order, switch hitting option at 2B.
We're getting down to mediocre OBP's now, but there are a couple more guys I wanted to highlight. Michael Burgess came to the Cubs as a lottery ticket in the Tom Gorzellany trade before the 2011 season. He didn't have a good 2011, and 2012 isn't much better, but his 2012 strikeout rate is about HALF of what is was while in the Nationals organization and he has some power potential, so the jury is still out on him.
I went 25 deep on this list for the sole reason of including Brett Jackson. His year in Iowa (228/324/430) looks bad and his 58 strikeouts look even worse. But he's still a guy that could be a centerfielder with 20/20 potential and an average OBP. That is a good player to have…maybe not an all-star, but not a black hole in the lineup at an important defensive position. His stock is down, but he will still be a major leaguer by next season.
Like last weeks Top 20 recap, not very pretty. Bottom line is the Cubs farm system lacks talent. The draft is about two weeks away and is still the best way to add talent to the organization. Many of you hated the Carlos Pena signing last year, but he netted the team a draft pick, and that's enough for me (he was also good enough to be signed by the Rays and bat leadoff last night!). The more draft picks, the better the chance of adding an impact player, which this system sorely needs.
Like what you see here? Never miss new content. Follow Us: