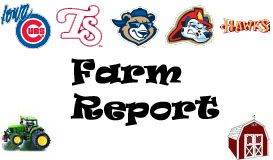 Every year, there are a few prospects who pop up seemingly out of nowhere for every team in baseball. Two years ago, Trey McNutt went from a virtually unknown 32nd round draft pick to a pitcher who made a lot of Top 100 prospect lists. Last year Robert Whitenack might have performed a similar task before going down to Tommy John surgery. Then there are the players who you have high hopes for, only to see a player not put up numbers anywhere near what fans or the organization was hoping for.  Today, I'm focusing on those guys. We'll say it is because I'm a glutton for punishment. To me, these are the significant prospects at each level that have been the most disappointing.
Triple A – Josh Vitters (3B)
If any of the Cubs' first round picks of the Tim Wilken/Jim Hendry era have been true disappointments, Josh Vitters probably heads that list. While starting pitcher Hayden Simpson is most likely to be a true bust, he was considered a big reach as the 16th pick of the 2010 draft. Vitters was supposed to be as close to a sure thing as a high school corner infielder could be when the Cubs took him with the third pick of the 2007 draft, based largely upon one of the prettiest swings in all of baseball.
But Vitters, who we ranked as the twelfth best prospect in the system heading into the season, has been unable to develop anything approaching plate discipline. Not only does he not draw walks, but he has not even shown a willingness to wait for a pitch he can drive. Some hoped that a change in the management regime on the North Side would result in Vitters "recommitting" himself and making great strides. Those strides have not been made.
Vitters was promoted to Triple A Iowa to start the 2012 season, moving from one of the worst hitters environments in the minors in the Southern League to one of the best in the Pacific Coast League. Vitters has, unfortunately, not impressed, posting only a .248/.293/.394 in 39 games (through Sunday). He still is not walking, he still is not hitting for anything more than moderate power, and he still is not waiting for his pitch. At 22, Vitters still has time to turn it around… but a lot less time than he did when he had the same problems upon being promoted to Double A two years ago. If he does not show significant improvement over the remaining three and a half months of the season, Vitters will probably no longer be considered a significant prospect, and will instead look more along the lines of the next Jeff Baker.
Double A- Trey McNutt (SP)
McNutt actually has not been that bad, and by some indicators is having a resurgent season after struggling through injuries in 2011. In 8 starts, McNutt has put up a 2.67 ERA and a 1.25 WHIP. What largely lands McNutt, our number 8 prospect, here is the fact that none of the other major prospects on Tennessee have been truly disappointing, per se, and that some of McNutt's peripherals are more concerning.
To start, McNutt has only thrown 30 and 1/3 innings in those 8 starts. That is less than 4 innings per start, which just is not good enough if McNutt is looking to show he is a true prospect as a starting pitcher. One of the big reasons McNutt has thrown so few innings is because he has walked 14 batters this year. That is nearly one every other inning, which is just way too many for a starting pitcher. If that does not improve, McNutt will probably be headed for the bullpen.
There is one recent piece of good news regarding McNutt, though: he has gone 5 innings in each of his last two starts.
High A- Ronald Torreyes (2B)
Of the three players the Cubs received from the Reds in return for Sean Marshall, Ronald Torreyes was the one you could dream on. Torreyes is tiny, listed at 5'9″, 140 lbs. From everything I have heard, that height may be overstated by a couple on inches. But Torreyes, our number 17 prospect to start the season, was reported to have an electric hit tool. In 306 plate appearances in the Midwest League last season, Torreyes batted .356/.398/.457, buoyed by an almost unbelievably minuscule strikeout rate of 6.2%.
Torreyes has been able to maintain the tiny strikeout rate, but has not been able to get the ball to fall for hits, as his BABIP is only .165. You would expect that to return to the mean as time goes on, but there is also the concern that his ISO is only .058.
With that said, it is clear that Torreyes' terrible numbers are somewhat the result of bad luck. In May, his triple slash is .043/.082/.043. In 46 at bats, he has only been able to tally two hits, but has also only struck out once. Having only 2 of 45 balls in play end up as hits is just insanely bad luck.
Even when that luck improves, though, we may be seeing that Torreyes' ceiling is lower than we would have liked. With most thinking Torreyes is unlikely to be able to add much power, he might just end up being a guy whose only plus skill is avoiding the strikeout. While Juan Pierre, for example, was able to make a pretty productive career out of avoiding the strikeout and taking advantage of his plus-plus speed, Torreyes isn't that sort of burner and will need to get the ball in the gaps.
Low A- Marco Hernandez (SS)
Prior the start of the season, it was presumed the 2011 first round draft pick Javier Baez would start the season as Peoria's shortstop, and Marco Hernandez would go to extended spring training before heading to short season ball in Boise. Instead, Baez stayed in Arizona and Hernandez was the one sent up to full season ball. Hernandez responded to his introduction to full season baseball by having a truly terrible April, hitting only .105/.146/.158.
While April made Hernandez, our number 14 prospect, the biggest disappointment with the Chiefs thus far, his May has been much better: .303/.329/.379. But, as a guy who does not hit for much power or walk, Hernandez's best offensive skill in rookie ball was his ability to avoid the strikeout. In the Arizona Rookie League last season, Hernandez maintained a 12.4% strikeout rate. That has doubled this year.
Overall, what Hernandez will be able to hang his hat on as a player is his ability to stay at shortstop defensively. However, it's hard to be a legitimate offensive option if you don't walk, don't hit for power and strike out a lot. It would not be a shock to see Hernandez finish the season getting sent down to Boise once short season play starts.
Extended Spring Training- Dan Vogelbach (1B)
As of right now, it looks like Dan Vogelbach was the big mistake of the guys we fell in love with based on reports.  We ranked Vogelbach as our number four prospect in the system, based upon prodigious power and a reportedly advanced approach.
Upon further review, the approach might not be so advanced. Through May 20, Vogelbach is posting just a .183/.272/.336. While it is difficult to say what may be wrong, since reports from extended spring training are few, Vogelbach's struggles were a disappointment. The thing that was really expected to play for him, especially early on, was his bat. So far that has not happened.
Next week we will be more optimistic and look at the guys who have exceeded expectations.
MAY 21, 2012, BOX SCORES
Like what you see here? Never miss new content. Follow Us: