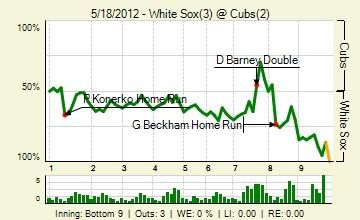 White Sox 3 @ Cubs 2
Box Score / Highlights / Condensed Game
Before The Game: News broke this morning that Kerry Wood was retiring at some point on Friday. As game time approached, it became clear that Wood had one final appearance to make as a Cub before hanging it up for good. That appearance, as it turns out, came in the game on Friday.
The Game: As so often is the case, this will be remembered as Kerry Wood's final game as a Cub – but there was so much more to this particular Cubs-Sox matchup.
Jeff Samardzija – not at his best today, he surrendered all three Cub runs and fell victim to Gordon Beckham in the 8th. Beckham's solo shot gave the Sox a 3-2 lead they would not relinquish. Beckham might want to be quick on his feet the next time he faces Samardzija – Jeff has developed a knack for mound vengeance that has become rather obvious. Four times year a player has tagged the Cub righty for a HR, twice it led to Samardzija being removed late in a game. The other two players (Jason Heyward last week, Paul Konerko today) were each hit by Samardzija during a subsequent at-bat. Today's beaning of Konerko was a bit disturbing, he was hit in the face and forced out of the game. If Samardzija feels the need to snag his pound of flesh for each HR he serves up, fine – but he needs to get those pitches down. Hitting a guy in the face is not cool.
The DeJesus Play – if you listened & enjoyed Steve Stone during his time with the Cubs, you might not want to click this link. Stone and Hawk Harrelson give an unbelievably biased play-by-play as Gordon Beckham turns 2B into home plate. How DeJesus can be blamed, at all – even in part! – for his 'hard late slide' is so utterly laughable. I hope at some point over the weekend we rough up someone at second base and 'earn' an out in the same manner. Sveum was livid and got himself tossed, and rightfully so. It seemed as though 3B umpire Marty Foster was validating what Beckham had done to be a legal play. Just unconscionable.
Tony Campana – perhaps at least some of Campana's bunting should be blamed on Tony Campana, not Dale Sveum. After Sveum had been tossed, Campana (with the go-ahead run on 3B and 2 outs in the 7th) tried haphazardly to reach base with a surprise bunt that was popped up in foul territory and corralled by AJ Pierzynski. Campana laid down a better bunt to reach base in the 1st inning; but at this point he's relying on the bunt too heavily for my taste. The 7th inning ended badly between DeJesus and Campana – that was our best chance to take control of the game.
Kerry Wood – if you have kids, watch this clip. Wood struck out Dayan Viciedo in his final MLB appearance. Bench coach Jamie Quirk removed him to a standing ovation, capped off by his son running onto the field to hug him. I know in recent years some have been jaded by Kerry's frequent presence on the DL and/or his sometimes maddening inconsistency. But do not forget:
He is the only living human to have represented the Cubs in 4 different postseasons.
He turned in what many consider to be the best one-game pitching performance in MLB history – at 20 years old.
He is the only living human to have earned a win in a playoff series-clinching game for the Cubs.
Since WWII the Cubs have won exactly 9 playoff games, Kerry Wood started 3 of them.
Three men in MLB history have averaged 10+ Ks/9IP; Roger Clemens Randy Johnson, Kerry Wood, and Pedro Martinez.
Other Game Notes – Blake Lalli made his MLB debut. He was called up when Chris Volstad was optioned to AAA Iowa. Lalli was needed because Geovany Soto is headed to the DL with a knee injury. Soto could be out for a month; Steve Clevenger is due back sometime towards the end of May. Meanwhile, Travis Wood will likely get the call when Volstad's spot in the rotation pops up next Tuesday.
After The Game: On Saturday the Cubs send Ryan Dempster to the mound. He is now the player who has the most service time with the franchise. Marmol and Soriano are next in that conversation. All three could be traded for the right price (or in Soriano's case, nearly any price). These are not your inappropriately-young-step-mom's Cubs.
Like what you see here? Never miss new content. Follow Us: