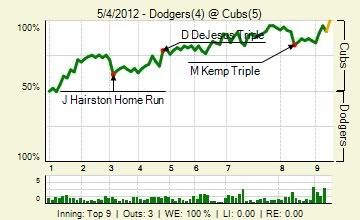 Dodgers 4 @ Cubs 5
Box Score / Highlights / Condensed Game
Alfonso Soriano: Soriano is starting to do his part to hasten his departure from the Cubs. Starting with the game on 4/24, he is 13-for-32 with 4 doubles and today he even allowed the Dodgers to walk him.
Paul Maholm: This guy might be a decent starter yet. Including today, in his last three starts combined he's given up 3 runs in 18.1 innings. He even took a vicious ball to his leg off the bat of Dee Gordon in the 6th, but managed to finish the inning. Coming into play today Maholm had a horrible career record of 0-5 with a 5.33 ERA against the Dodgers.
Starting Pitching: Over the last 12 starts, the Cubs' starters have allowed more than 2 ERs just 3 times. They've combined for 75.1 innings, allowing 20 runs and a WHIP of 0.983 (50 hits & 24 walks). Volstad and Wells are dragging these numbers down, basically everyone else who has started for the Cubs since 4/21 besides Volstad & Wells has turned in a great outing.
Offense: Coming into the game, the current Cubs roster was a combined 12-for-69 with 18 strikeouts and only two extra-base hits (both doubles) against Chad Billingsley. Though he scratched his way through 6 innings, Billingsley gave up 8 hits, 4 runs, 3 walks, and only struck out four; 5 of those 8 hits went for extra bases. DeJesus got things started early with a leadoff double in the first, and one batter before Billingsley's day was over, Joe Mather sent him to the showers with a pinch-hit homer in the 6th. The Cubs' patience at the plate was critical, they made the Dodgers throw 166 pitches in just 8 innings.
Castro & LaHair have been pretty consistent. But today with Soriano doing some heavy lifting, DeJesus fell just a homer short of the cycle, and Mather's pinch-hit homer – the Cubs offense actually looked…robust! Billingsley was fighting trouble in virtually every inning (the Cubs had a runner reach at least second base in six of the first seven innings).
No Respect: When the Dodgers intentionally walked Ian Stewart in the 7th, I looked at the on-deck circle and expected to see a cripple or maybe even someone who had recently died, but actually it was Darwin Barney. Someone needs to update the Dodgers' scouting report – two days in Cincinnati notwithstanding, Ian Stewart sucks. Yeah, they were just trying to load the bases with one out; but Stewart is like having a second pitcher in the lineup.
Relievers Distressers: The Cub bullpen is terrible, that is all.


But What Was He Thinking? Before the game Dale Sveum announced that he'd demoted Carlos Marmol out of the closer's role (it's about time!); for now he's using Dolis and Russell in that role. I'm stealing Joe's 'You Make The Call' format here: with the Cubs leading 4-1 in the 7th and Ethier (L), Rivera (R), and Loney (L) coming up, who do you bring in from the bullpen?  Russell or someone else? Remember, your closers are Dolis and Russell; Dolis has pitched 4 out 5 days; but there are two lefties scheduled to hit in the 7th.
As for me, I'd be going with someone else (Bowden or Camp) in the 7th.  If you can make it to the 9th with a lead then Russell can buy Dolis a much-needed day off (theoretically); and the Dodgers are likely to pinch-hit for Loney if either of the first two batters reaches anyway (exactly what happened).
Kerry Wood: Dale also said before the game that he'd be using the recently reactivated Kerry Wood in low-pressure situations until he could get a few innings under his belt and be comfortable again. I guess 5-2 in the eighth with the heart of the lineup for the NL leaders coming up qualifies as low-pressure.  Oh, and Kerry was bad today.
Dale Gets Tossed: Speaking of the Cubs' new manager – he was ejected in the 9th by home plate umpire Marty Foster when Dolis hit Dodgers catcher A.J. Ellis. In the sequence to Ellis, there was a 1-2 pitch that the Cubs thought probably should've ended the game. Instead, Foster called it a ball and with the next pitch Dolis hit Ellis, who became the potential game-tying run at first base. It was Dale's first ejection as manager of the Cubs.
Like what you see here? Never miss new content. Follow Us: