The complete title of this book is "Once Upon a Game: Baseball's Greatest Memories / as told to Alan Schwarz". It was written by Alan Schwarz and was
published in 2007.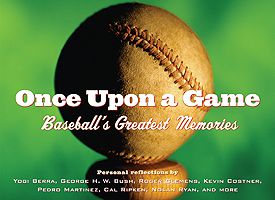 I would like to quote the author's biography from the inside back jacket cover:
"Alan Schwarz is the senior writer for 'Baseball America' magazine, the host of 'Baseball Today' on ESPN.com, and a regular contributor to the 'New York Times'. His first book, 'The Numbers Game', was ESPN's 2004 Baseball Book of the Year. He is a frequent on-air analyst for ESPN, National Public Radio's 'Talk of the Nation, and MSNBC."
The bottom of the inside front jacket cover proclaims:
Lavishly illustrated and handsomely designed, 'Once Upon a Game' is the perfect gift for any baseball fan."
"Once Upon a Game" consists of short stories, like 1 to 3 pages short, told by 35 or so "celebrities with a connection to baseball", including Ernie Banks, Yogi Berra, Kevin Costner, Bob Feller, Ozzie Guillen, Buck O'Neil, Gaylord Perry, Charles Schulz, Casey Stengel & Joe Torre, among others.
Each of these short recollections is accompanied by 1 or 2 photographs illustrating the time and place of the story. The book is very nicely done.
There is a Foreword by George F. Will in which he describes one of his most cherished baseball memories. Interestingly, that memory "involved neither a hit nor a pitch nor a catch nor a throw. It involved an act of sportsmanship…"
Here are a few of my favorite excerpts from the book:
"I knew then, and I know today, that winning World War II was the most important thing to happen to this country in the last 100 years. I'm just glad I was a part of it. I was a gun captain on the battleship "Alabama" for only 34 months. People have called me a hero for that, but I'll tell you this – heroes don't come home. Survivors come home." Bob Feller
"Michael (Jordan) called me on the way to the arena one day after that. He said, 'I just wanted to tell you I love doing what I do again.' He'd gotten tired of basketball, and baseball was just so joyful for him. 'You guys love what you do,' he said, 'and that rubbed off on me.' I truly think that getting a hit in an important part of a game for the Birmingham Barons meant as much to him that year as any jump shot in the NBA." Terry Francona
"But I was feeing so great. So lucky. I was getting paid to do something I loved." Ernie Banks
"As he wound up on the next pitch, I could read his grip on the ball and I could tell he was going to throw a screwball. I swung and hit a line drive toward the corner of the left-field bleachers. I stood at the plate and watched the ball for fear the umpire would call it foul. It landed a few feet inside the foul pole for a grand slam." Hank Greenberg
"I was only a high school kid, for crying out loud – and Ted Williams said I was going to play in the major leagues….most of all, you have to take hitting seriously – you can't be a nice guy up there. It's not a profession for the light approach…. Most of all, though, Ted – excuse me, Mr. Williams – taught me to believe in myself." Mike Piazza
I enjoyed reading "Once Upon a Game", and I can tell you that my dad, The
World's Greatest Living Cubs Fan, couldn't put this book down. He was totally
fascinated by it. I recommend it highly.
I want to thank Houghton Mifflin Company for providing me with a copy of this book to read and review.
Like what you see here? Never miss new content. Follow Us: