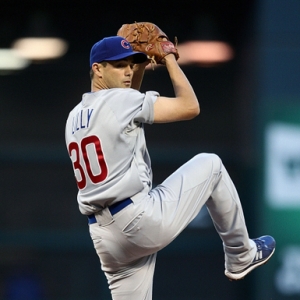 Hey ho, let's go. Had I more energy or another cup of coffee, I might have made today's "In the News" a big April Fool's Joke in which, say, VFTB converts to a White Sox site or decides to start writing all of our posts in Ozzie-esque Spanish. But, alas, my busy workday prevents me from such elaborate devices. And, as we'll get to below, Cubs pitchers already gave us a pre-emptive April Fool's joke in yesterday's games. So let's get right to Da Newz*:
Ted Lilly pledges a cool grand for every W.  Not that Ted has to prove he is God-like in his every earthly action but, well, he is. Lilly has pledged to give $10 for every strikeout and $1,000 for every win to the Dempster Family Foundation– his fellow starting pitcher's charity to fight DiGeorge Syndrome. All the more reason to hope Ted puts together a 20-win, 200-K season – though anything even close would be great, too.
Billy Williams to be honored with a statue.  This story hit Twitter like a Tyler Colvin line drive yesterday. Sweet Swingin' Billy Williams will join Ernie Banks in statue-esque glory (waitaminute, Daver – it won't be "statue-esque," it'll be an actual statue) outside Wrigley Field. The unveiling ceremony will be held before the Cubs Sept. 7 game vs. the Astros. Fortunately, the team will have the division wrapped up by then, so the game itself will be purely an exhibition. (Oh, please, please, please…)
Former Cub update: Corey "K-Patt" Patterson.  Ah, who can forget him? So much promise. Such a great start in '03. Such a wretched propensity to fall for the high heat. Once the crown jewel of the Cubs farm system, Patterson is now a defensive replacement searching for a job after failing to make the Mariners roster. (And if he couldn't make the grade with a defensive-oriented team like the M's…) Sad. Maybe his brother Eric will have better luck in Oakland.
Going to Atlanta on Opening Day? Here's what to expect.  Looks like the Braves have some fun activities planned for their OD showdown against the Chicago Cubs (ever heard of them?). The festivities include a country singer, a fly-by and a Beatles cover band. Baseball games that count: I've got to get you into my life.
Denard Span hits a Freudian foul tip.  Hear about this story yesterday? Twins outfielder Denard Span lined a foul ball into the stands and hit…HIS MOM. She was fine, but holiday dinners will never be the same for that family. Click on the link for a YouTube clip.
Yesterday's (Wednesday's) game results: Cubs lose 11-0 to the Angels and 12-7 to the Brewers. That's right, people. Cubs pitching gave up 23 runs yesterday. And if you want to be really perverse, throw in Sweaty Freddy Garcia's 10-run debacle against the Indians and you can say that Chicago's Major League clubs surrendered 33 runs in a single day. Is that a record? Eh, who cares – it's just Spring Training. And the Brewers game was started by Jay Jackson, who clearly needs more seasoning in the minors as he hasn't looked particularly good in any of the ST games I've caught. (He's still a name to remember, though.) What is bad, however, is that seven of the runs given up in the Angels game were credited to guys who will be in the Cubs bullpen on Opening Day. (The other four go to Big Z.) As mentioned above, let's just write off both games as a pre-emptive April Fool's joke and move on.
Today's (Thursday's) game: Cubs vs. Rockies, 3:05 CDT at Goodyear Park. Looks like the game will be broadcast on Comcast SportsNet Chicago (and mlb.tv) as well as on WGN radio (and Gameday Audio via mlb.com). Carlos Silva goes for the Cubs, Jeff Francis for the Rockies.
Aaaaaaaaaaand last but certainly not least, Joe's Question of the Day:
Carlos Zambrano vows that 2010 will be a different kind of year for him. He's a changed man. If you were the GM and Theo Epstein called you and offered a trade for this year only. Would you trade Carlos for Josh Beckett straight up? Before you answer, you may want to look at their numbers.
Click on those links for their respective baseball-reference pages. I'm going to need to think about this one. (And I need to get to work here.)
####
*Reddish text = hyperlinks to my sources. Check back for updates!
Like what you see here? Never miss new content. Follow Us: