We're rolling out some new features and a new design sometime today. In the meantime, I wanted to throw some interesting notes from around the web. Feel free to send us things you find for feature on the site.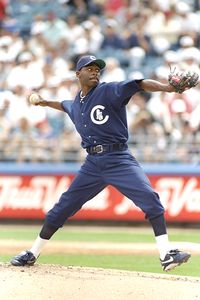 Kevin Foster passed away yesterday after a battle with Cancer. He was one of my favorites when I was growing up. I fell for him similar to the way I fell for guys like Rey Sanchez, Steve Trachsel, and Brant Brown. Baseball Reference took some time to pull up a list of Foster's best games in terms of game score. Take a look. It's time to find a cure for Cancer. It has taken far too many people at far to young of an age.
Statistically Speaking asks the question "Was Manny Tanking it in Boston?" I don't even have to read the article to know the answer to this question. YES!!! That being said, Pizza Cutter makes the case that the power numbers increased as well as a number of other statistical indicators. I get frustrated with a guy like Manny, not only because he just kicked our booty, but because he's always wasted his talent. Imagine his numbers if he wasn't such a headcase. He's going to make the hall of fame, but he's not one I'll be happy for. (View Story)
Detroit Tigers Thoughts posted his version of the free agent rankings for some of the positions. This is something that, according to the collective bargaining agreement, determines compensation for a team that lose a free agent. Type A players net the losing team the signing team's 1st round draft pick. Type B players turn into, essentially, picks between the 1st and 2nd rounds. Here are the links for his series so far: MR (AL / NL), SP (AL / NL) C (AL)
The Hardball Times, one of my favorite blogs out there, released their season awards this week for the hitters and the pitchers. Before you dismiss it as just another award post, give it a try. They come up with interesting names for the awards. (Part I / Part II) I was amazed at how good Jake Peavy was and yet you'd never know it by his record. Imagine if he actually played for a good team with any kind of offense. According to a tip on the SD Tribune, Peavy has garnered some interest via trade rumors.
The Cub Reporter posted some nice photoshop images that made me laugh about our team. My favorite was the children's book about failure. (View Site)
Finally, you gotta watch this YouTube video of a 9 year old Linebacker / Running Back. Some of the hits this kid lays down are monsterous. He's a beast.
Like what you see here? Never miss new content. Follow Us: