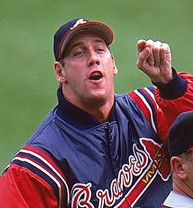 Well, I did until I finished the article and then read his last quote. In case you've been living under a rock the past week, it was revealed that a pharmacy in Florida was busted for distributing HGH and other steroids to athletes recently. Among the two names mentioned were John Rocker and new Angels investment Gary Matthews Jr. This news has the Angels up in arms about the money they spent. I can't say that I would really blame them either.
Yesterday, Rocker came out and corrected a statement that his publicist made that said he had a prescription for the HGH he was taking to strengthen his shoulder. He told ESPN Radio ""I never had a prescription for any HGH. If somebody's got a beef to make with me, show me a prescription."
I enjoyed the fact that Rocker basically came clean and said he did it and here is why I did it. He corrected an apparent cover up by his publicist and told the truth. What a great role model, right?
Then I got to the end of the article and read what his advice to younger players was.

Asked what advice he could give young baseball players, Rocker said "If the league allows you to do it, do it. If it's legal, do it. Why not?"
Good grief John, is that mouth of yours really that big that it can hold that many feet, or do those feet taste that good that you can't stop putting them in your mouth? Show some restraint and try just for once to be a role model.
---
On a random Cubs note, I saw something that worried me in the Sun Times.

If he carries 12 pitchers, Piniella might have to get by with only one pure backup infielder, Ryan Theriot.
I'd really like to see two backup infielders instead of one. What if Mark DeRosa gets spiked at second base? That leaves us with no one on the bench for the lovely double switch or in the event of a Hee Seop Choi collision. Seems like potential trouble. Let's hope the Cubs are wise and break camp with 11 pitchers on the staff.
Like what you see here? Never miss new content. Follow Us: