As an Illinois basketball fan, i've been very spoiled over the last few years. After all, this is a team that has been winning a lot lately. This year has been one of the toughest. Yes, Illinois seems like they're headed back to the tournament, but if you look deeper, you'll see a team that has had a very tough year and desperately needs some rest from the crazy bug. If you're unfamiliar with what I'm talking about, let's review.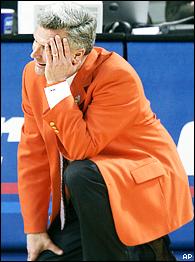 Injuries bite hard – Injuries have hit the Illini hard. Broken noses, pulled groins, car accidents, etc. are killing this team. Bruce Weber said one time early in the year that he has trouble scrimmaging in practice because at any given time, he doesn't ever have 10 healthy bodies.
DUI Issues – Both Rich McBride and Jamar Smith have had issues with driving while intoxicated this season. I don't generally attribute that to the coach, because he can't possibly go everywhere with them and make all their decisions for them. It's time for kids to grow up and start making better, more responsible decisions. However, if it continues the way it has this year, Weber may have some very tough questions coming from the AD on how he plans to prevent it in the future.
Date with the Devil – This rant is about Tommy's favorite school, Indiana. I bet you didn't know that Indiana is a synonym for hell, did you? Well it is. Why do you think their team color is red? I also bet you didn't know that the Devil has taken up human form these days. He looks like this. Kelvin Sampson broke the unwritten rule this year and ruffled a lot of feathers in the process. Prep star Eric Gordon had given coach Weber a verbal commitment that he was bringing his # 1 shooting guard self to play for the orange and blue. Then, Sampson comes on the scene and begins to woo the young kid. Sampson one out and stole our prize. It's as dirty as stealing someone's girlfriend right under their nose. It's something you just don't do. That left Illinois on the outside looking in with about a week or two until early signing day. Basically, up a creek without a paddle.
That is just some of the issues this team has faced, not to mention the fact that they seem to score less than sister Mary Catherine at the local nunnery. All that makes for a season I desperately wish would have turned out better. There is still hope, but it's very small this season. Sounds a lot like the life of a Cub fan.
Like what you see here? Never miss new content. Follow Us: