Let's Play GM
Written by Joe Aiello, Posted in General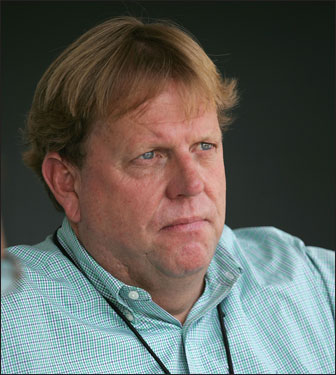 Well, all hell has broken lose now and it has become very clear that this team is going nowhere fast. Obviously I know the usual lines: "It's early" "We have so many more games to play". Blah Blah Blah. I want the team to win as much as anyone else, but I am realizing now that if we think this team is actually close to contending for a title, then we're crazy. There is a difference with being a decent team and being a team contending for a title. With that being said, I want to play GM for an afternoon and tell you what my plan would be if I were to be hired today.
Trade Block
Juan Pierre – I was as excited about getting him as anyone else, but when I take a closer look at his numbers, we should have been worried about the massive drop from 2004 to 2005 in the numbers. His batting average went from .326 to .276 and his OBP went from .374 to .326. Those are huge drops. That, coupled with his average defense, terrible arm, and miserable start to this season seem to make Juan Pierre a mistake. I put him on the block, but at this point, what can we really expect to get in return. Pierre will be a FA and hasn't hit well. That's not a guy in high demand.
The Rest of the team
First base – I bring up Brandon Sing to try his hand at 1b until Derrek Lee returns. He is a patient hitter that knows how to draw walks and has some pop in his bat. John Sickel's mentions "His MLEs show him as a .240ish hitter at the major league level, albeit with enough power and walks to be useful." It's worth giving him a try while Lee is out. He's struggling in AAA a little, but I like his plate discipline. There is definitely no need to go out and get a guy like Conine to play 1b when we have young guys to do it.
Second Base – No more of this 9 headed second base nightmare. After we move Sing to 1b, Todd Walker can go back to playing 2b. Jerry Hairston is again assigned to bench duty, with the occasional starts in the OF and on Walker off days. Neifi Perez would then be the odd man out. He has no value for THIS team. That is not to say he's not a valuable player on another team. Perez is the type of player you want on your bench as a utility guy with a good late inning glove. Unfortunately, the Cubs see him as a regular in the starting lineup. He probably has some trade value to a team looking for some depth in the IF.
Shortstop – Ronny Cedeno is going to be our starter for years. I feel good about him. Don't let the errors fool you. He knows how to field the ball. He's still in learning mode. Once he starts to get a better feel for the hitters, you'll see a lot less errors from him. He stays.
Third Base – People are going to think I'm crazy for this one, but here me out. I trade Aramis Ramirez for young SP to hopefully anchor the rotation of the future. We could probably get one very good arm, maybe two. Perhaps San Diego would be interested in Aramis and we could get a guy like Cesar Carrillo out of the deal. He's a local kid out of Mt. Carmel H.S. who went to Miami and lit it up. He has good movement on his fastball and has great command of his pitches. He can get you out in all kinds of way. Most importantly, he throws ground balls. The reason I even consider trading Ramirez is simple. Back problems. This guy doesn't work hard to keep his body in shape and we're going to get burned bad if we keep him. We stole him when we got him. Now, let's sell high and pawn him on someone else. Plus, I hate when he doesn't hustle. Then, with Ramirez gone, we can see what Theriot can do with the bat over at 3b, which is a position he plays.
Outfield – Murton stays and plays every day. With Pierre gone, the time is almost right for Pie, though not yet. He's just not hitting good enough quite yet for the promotion. Although, by the time Pierre gets traded, which could take awhile for us to get him up to the point where we could get value for him, Pie may be ready. Assuming we trade Pierre right away, and get decent value, it leaves us with a couple of options to explore in CF. 1) We throw Hairston out there every day and finally see what he can do as a regular player. 2) We bring up a kid like Buck Coats from Iowa and see what he can do with some time. Then, in late July or early August, I hand the reigns over to Pie and see what he's got for the final two months of the season. Jacque Jones, we are stuck with. Although, he's really not THAT bad. I can deal with watching him out there if it means we have a chance to see some of the other kids play.
Rotation – Prior (Hopefully), Wood, Maddux, Zambrano, Marshall
Basically, my defense looks something like this:
C – Barrett
1b – Sing
2b – Walker
3b – Theriot
SS – Cedeno
LF – Murton
CF – Hairston or Coats
RF – Jones
Is it a roster that is going to score a ton of runs? Of course not, but the most important thing right now is to evaluate what we have so we know where to go with it. As far as the manager goes, I am torn. There really isn't anyone out there worth going for is there? Bobby Valentine, Lou Piniella, etc are all names that are mentioned, but really, are they any better than Baker? I think Joe Girardi was our guy and we missed it. Another option would be a guy like Brenly as a stop gap or perhaps see about luring a guy like Mark Grace out of a the booth. I'm not sure the kind of person it would take. That's the hardest thing.
So what do you think? We scrap the season, without really dismantling the team and take some time to see what this farm system has to offer. In addition, we potentially get a very nice SP to help the rotation. When you couple him with Zambrano, Prior, assuming he gets healthy, and Pawelek, that could be a nice start. Until we see what he actually HAVE, we can know where we need to GO. What was once considered one of the top farm systems in the majors is not one of the thinnest. Aside from a couple of names that are considered top guys, we have a farm of fringe players that probably are career minor leaguers or major league bench material. Let's start sifting through what we have.
Now it's your turn. Sound off on me and my plan. Come up with your own.