"The world's greatest pool player"
Written by Joe Aiello, Posted in General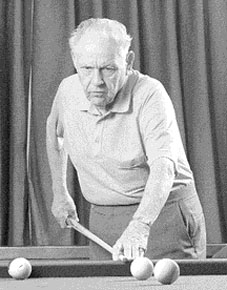 Some months ago I wrote a short piece about the only pro baseball player I ever knew, Billy Martin. But there was one other sports figure whom I knew even better. Rudolph Wanderone, Jr., known to the rest of the world as Minnesota Fats.
Minnesota lived in the Hermitage Hotel on Sixth and Union in Nashville, TN and spent most of his nights hanging around the Bull Pen Lounge in the basement of the Stock Yard Restaurant. Minnesota loved crowds and he loved to be recognized; in fact, he'd go home and go to bed early if he didn't get recognized. He carried with him a little rubber stamp which he used for autographs; he was bothered by arthritis and claimed that the stamp was more genuine anyway.
Minnesota never claimed to be "the world's greatest pool player." In fact, he really didn't seem to like playing pool at all. Rather, he was a card shark, what is known in the casino world as a "card reader." He had a very categorical memory and could keep track of the cards that had already been dealt. Or so I'm told.
At one time Minnesota Fats Enterprises had an office in the Sears Tower, he once told me that a couple of employees and bankrupted the company and disappeared with their pockets bulging. When I knew him he was not a wealthy man at all; each month he signed over his social security check to the hotel and, in return he got to live and eat in a luxury hotel. I was always grateful to the Hermitage for doing that and always recommended their fine hotel because of that.
As time went on Minnesota began to have health problems as we all do. A hostess at the Stockyard that I knew as Teresa Bell took Minnesota in and took care of him in his later years. I'm told that they eventually married. But during most of the 1980s Minnesota was a permanent fixture in the Nashville community; every day he'd be seen sitting in his chair in the Hermitage or feeding the pigeons in the back alley behind the hotel. Minnesota never seemed too concerned about his advancing age; rather, he was more worried about what would happen to the pigeons.
Update
During the rest of this season Mastrick intends to write occasional offbeat pieces about sports in general or Cubs history. These articles may be a bit off-topic but are meant as a ray of sunlight in an otherwise cloudy season.