Cup O'Joe: Jim Hendry
Written by Joe Aiello, Posted in General
Lou Piniella has gone on record saying that he will be back next year. With the new ownership in place sometime very soon, would it be a wise move to change general managers? Here are my thoughts:
Hendry has done a good job getting us to be a competitive team for the better part of this decade, with a few hiccups mixed in there. It's actually been somewhat fun to be a Cub fan.
At the same time, while we've seen some success, we've also seen three playoff years of complete colapse. I count 2003 in that statement because of how grand they blew it against a Marlins team that we were better than. Obviously a GM can do only so much, but perhaps a change would help.
Long term contracts that include no trade clauses, while helping to bring in big name talent, has also locked us in pretty heavy to an aging payroll.
Changing GM's this year, while it might be best from a team standpoint to get a new voice and decision maker in there, might not be the wisest move considering it will take whoever is the new choice awhile to get acclimated to the position, which would put him at a disadvantage for this off-season.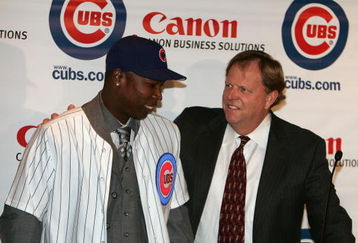 Just a few thoughts on the issue. I'd like for you to weigh in as well. Oh yeah, and the Cubs won yesterday 9-4 if anyone cares. Milton Bradley and Koyie Hill combined to go 7-for-7. No serious, I'm not kidding, take a look.