Players to watch in 2016: Willson Contreras
Written by Jared Wyllys, Posted in General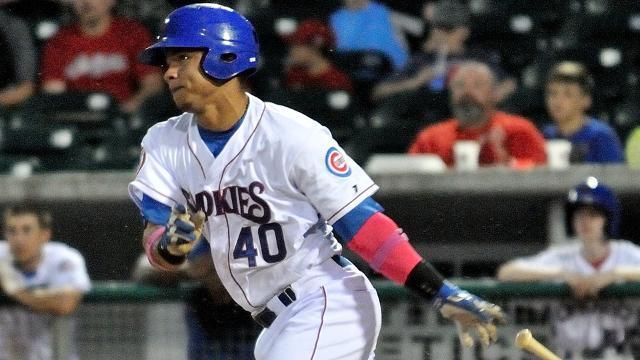 I get excited about prospects, especially catching prospects. There's so much hope, so much reason for optimism, and yes, sometimes so much hype. Last week, I took a look at a pitching prospect who I think will prove useful in the late innings in our bullpen this year, and today I'd like to take a closer look at a prospect who spends a great deal of his time behind the plate and seems to be projecting to potentially have an impact on the Cubs 25 man roster as early as 2017, if not sometime later in the 2016 season.
The obvious problem for Willson Contreras is that, in 2016, he has in many ways three different catchers on the current 25 man roster standing in his way. Though Kyle Schwarber will likely spend the majority of his time defensively in left field, there's still Miguel Montero and David Ross who will be getting most of the starts behind the plate next season. Ross will likely retire after 2016, but Montero is under contract through 2017, so it could be a slow clime for Contreras, but as we have seen with other up and coming prospects, if the bat is there, they will find a spot.
Contreras is an interesting case, because although he has the defensive flexibility that Joe Maddon seems to appreciate in his players so much, he has seen his appearances behind the plate increase as he has moved up through the ranks of the minor leagues. In 2011, his first professional season, he played at Boise and appeared defensively nearly everywhere except behind the plate. He was primarily a third baseman then, a spot that he has continued to spend time, though with rapidly declining regularity. In 2011, he spent 46 games at third, compared to just 8 for the Tennessee Smokies in 2015. His numbers as a catcher have kept going up, from 39 at Boise in 2012, 72 at Kane County in 2013, 73 at Daytona in 2014, and finally 75 at Tennessee this year. In the Arizona Fall League this year, he played 11 games and was the catcher for 10 of those.
In the 2015 season especially, Contreras used his bat to put himself on the radar of the big league club and get himself added to the 40 man roster for 2016. As far back as September, indications were already showing that the front office had plans for what to do with him this upcoming season. He will likely spend most, if not all, of spring training with the big league team before heading to Iowa to continue to work on his defense behind the plate.
If, and this is a very strong possibility, one (or both) of Montero or Ross gets hurt for a significant amount of time in 2016, we will see Contreras make his debut. I think he's shown that he's probably ready offensively, especially if you look at his numbers at Tennessee this past year. There, he jumped his OPS to .891, far surpassing his previous career high of .742 with Kane County in 2013. With the Smokies, he had a 156 wRC+ (just for fun, some guy named Mike Trout had a 156 wRC+ when he was in AA in 2011), and a K % that sits nice and low at 11.9% last season.
There's plenty to be excited about when it comes to Contreras, as you can see:
Willson Contreras is uber athletic with a violent swing geared for power. limited look but if he improves receiving skills watch out #cubs

— Mauricio Rubio Jr. (@MRubio52) November 21, 2015
Willson Contreras, Chicago Cubs (2015 Arizona Fall League): https://t.co/m5g2mxxWlN via @YouTube

— Mike Rosenbaum (@GoldenSombrero) November 12, 2015
#MesaSolarSox My "primo" Willson. Our similarities are uncanny, tho he's the better hitter. @noslliw19 #Contreras pic.twitter.com/fAVQD9esuD

— Kim ~CopperStateAs⚾️ (@Cu_As) October 31, 2015
But, even given the Cubs recent reluctance to include him in a trade, it should be noted that prior to 2015, Contreras has not had any other season in the minors that has been particularly attention getting. This is not to say that players cannot put things together and earn a spot on a top 100 prospects list where they had not been expected to appear before, but keep in mind that sometimes all of this just ends up being hype or too much hope pinned on a small sample size. But, given what he has shown so far, I think Contreras is very much worth keeping a close eye on in 2016.