A Look at Starlin Castro's Turnaround
Written by Sean Powell, Posted in General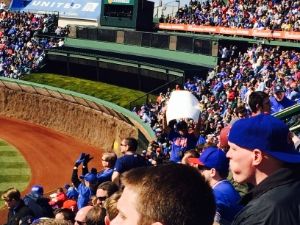 It feels good to be back. I've been in the middle of a big move, and I'm still in a sort of limbo, but you, dear reader, have remained in my heart.
There hasn't been much to get excited about as far as team accomplishments this season, but there have been some individual performances from young players that allow me to have hope for the future. Anthony Rizzo has shown tremendous maturity and patience at the plate, Shark is pitching out of his mind, Mike Olt has shown RIDIC power, and some of the young bullpen arms look outstanding. Today, though, I'd like to focus on the player who had the most question marks surrounding him coming into this season: Starlin Castro.
We all know the story of Castro's 2013: it was awful. Apparently, there were attempts by the management to get him to adjust his approach to become a more patient, "selectively aggressive" hitter that just didn't work out. To recap, his 2013 numbers were .245/.284/.347/.631 which was good for a -0.6 WAR and 72 OPS+ (by far career lows). [as a quick review for those that need it: WAR is Wins Against Replacement (so Castro in 2013 actually performed worse than a AAA replacement shortstop) and OPS+ is a normalized On-base plus Slugging metric in which 100 is league average – so Castro was 28% worse than league average – this was the first year he didn't have a 100 OPS+ or better].
It's early in the season, but there's no mistaking that Castro seems like a different player this year. Even without looking at the statistics, it's obvious that Castro is driving the ball more, and he seems to be having more "fun" out there this year (does having fun lead to better production, or does better production lead to having more fun? I tend to think it's more of the latter, but there's probably a two-way relationship there). As for the numbers, they're absolutely fantastic: .302/.341/.491/.832 with a 1.3 WAR (which is awesome – remember, WAR is cumulative, so to have that number in May is great – his career-high WAR for a season is 3.4, which he posted in 2012) and a 123 OPS+ (career high is 111 in 2011). Again, it's early, but his slugging percentage is 60 points higher than his career high, as is his OPS. If this holds, this will be Castro's best season by a significant margin. So far, Castro has been the second-best offensive shortstop in all of baseball (behind only Troy Tulowitzski, who is out of his mind).
The most striking difference is found in the power numbers. I've already referenced the career-high (so far) .491 slugging, but a look at Castro's ISO can give us even more information [quick review: ISO (Isolated Power) is a measure of a player's raw power and is calculated by subtracting batting average from slugging percentage, which gives us a metric for extra base hits per at bat]. Castro's ISO this year is a very-excellent (and career high by far) .189 (his previous career high was .147). [side note: Mike Olt's ISO is an insane .275 – dude basically either strikes out or hits a home run.] Castro already has 6 home runs and 12 doubles.
So, why is Castro playing so much better this season? Is it because he's abandoned the "experiment" from last season and returned to his pure, "see-ball-hit-ball" instinctive approach? Or, is that "experiment" finally paying-off? After all, the point of that experiment was for Castro to wait for pitches that he can drive for extra-base power. Is it the positive influence of Rick Renteria? Is it the absence of the influence of Dale Sveum? Should we credit new hitting coach Bill Mueller? Is it simply a result of Castro's natural maturation (after all, he's still only 24)? Is he working harder now? Is his personal life in better shape? Is it due to the energy brought in by players like Bonofacio? Is it due to pressure from minor league players knocking at the door? Honestly, we'll never really know, and I suspect that it's a complex combination of all of the above. After all, human beings are messy, complicated creatures, and our behavior is rarely due to one factor. I'd love to hear your thoughts about Castro in the comments. Do you think he is going to sustain this over the course of the season and moving forward? If you wanted to trade Castro before, have you changed your mind?
Next time, I'll have some thoughts on the upcoming – and very important – MLB Draft. Later!