Report from Opening Weekend at Wrigley
Written by Sean Powell, Posted in General
I was fortunate enough to be able to make it to Chicago this weekend for the 100th Opening Day at Wrigley. So, instead of diving in to a particular topic about the team, I thought I'd share my experience for those of you who couldn't make it.
I don't teach class on Thursday afternoon or at all on Friday (have I mentioned how awesome it is to be a college professor?), so my wife (who is a teacher and was on spring break) and I flew up on Thursday afternoon. I met my brother and his friends (who were attending their 5th straight home opener) around 10 a.m. on Friday morning to get in line for our bleacher seats. While we were in line, the "unofficial" mascot Billy Cub came by…you may have heard that he's been in the news lately.
The gates opened a little after 11, and we promptly took our seats in the left field bleachers. Since this was the home opener of the 100th season, so I guess I was expecting something really special to happen before the game. I know the official anniversary is later this month, but I was hoping for something beyond the usual "announce everyone on the clubhouse staff's name" opening day stuff. Anyway, at least we weren't kicked out of the park before the game even started.…and it was cool to see some of our fine military folk during the anthem: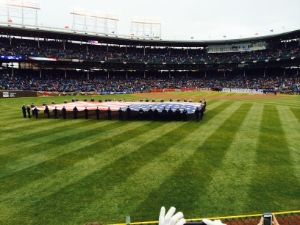 As for the game, well, it was a dud offensively, but the pitching staff looked great again. Travis Wood did allow a homerun to Chase Utley, but I can tell you that it was definitely wind-aided – it was one of those rare cold games at Wrigley when the wind was blowing out (to right field). Welington Castillo's homer, on the other hand, was a line drive right into the teeth of the wind. After the game, we had some fun in Wrigleyville, where I got to meet a few fellow bloggers and some people who I've only previously "Twitter met."
I was also able to catch the game on Saturday. There's no need for me to recap the game for you – that's been done elsewhere. What I can do, though, is show you this: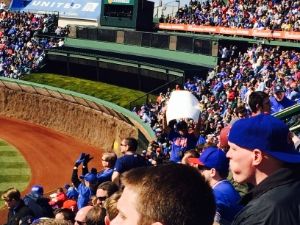 That's right, ladies and gentlemen, that's our very own C-A-P-S holding up a VFTB sign (check out Joe's post from yesterday for a close-up). Yes, CAPS, I saw you – sorry we didn't get to meet in person, maybe next time!
Dear readers, I have to share with you one of the great regrets of my life. After the game on Saturday, I left to go hang with a friend downtown, while my brother and his friends stayed to hang in Wrigleyville. A few minutes after I left, this happened: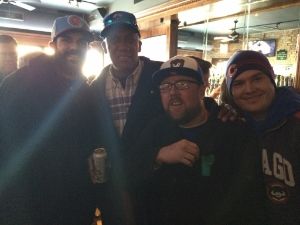 Yep, that's my brother on the left, standing right next to FERGIE FREAKING JENKINS. I'll never live this one down.
I'm headed to St. Louis to watch the Cubs series for a conference next weekend, so perhaps I'll have some interesting stories to tell. It's always fun to enter the lions' den.
If you haven't yet, check-out our swell podcast. We just recorded quite a dandy.
Before I go, since we're all doing it, I thought I'd share some music. This song's definitely no party anthem, but the musicianship and songwriting are incredible. Every pop singer who lip syncs on TV should be forced to watch this 100 times.