Game 77: Garza's Gem
Written by Jedi Johnson, Posted in General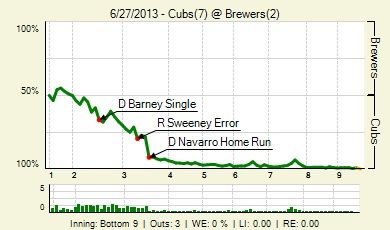 Star of the Game – Matt Garza – .198 (WPA)
---
Maybe Theo & Jed need to threaten to trade all of our pitchers.
Matt Garza
The soon-to-be former Cub was dominant today. The phone is likely ringing off the hook since Garza has now strung together 3 dominant starts in a row. Hopefully no one looks too much into the detail of those starts (his opponents were the Mets, Astros, and Brewers) – because Garza has only one impressive start against a potential playoff team. The good news is that game was against Arizona; right now the Dodgers and Padres are both rumored to be interested in acquiring the Cubs' righty. There is not a lot of talk that the Cubs and Garza are seriously considering an extension. He is very clearly on the market and extremely likely to be traded. We're coming up on that time of year when Casey Coleman doesn't screen his calls.
Starlin Castro
A quick word about Castro – after two days off (and one game off), he now has back-to-back multi-hit games for the first time since May 26 & 27. He had done that 4 different times through the first 41 games. Even after these last two 2-for-5 games, Starlin would need to hit roughly .370 for the rest of the season to get up near his accustomed .300…that's not going to happen. And of course his paltry batting average has depressed the rest of his batting statistics too – no matter what he does (good or bad) between now and the end of this year, his stats are going to look pathetic. All of them. The slump was (is) too prolonged; he might very well finish with fewer than 150 hits, a sub-.300 OBP, AND a sub-.400 SLG%. That's not to say the season is a step back for him (far too early to pass judgment on that); but if you want to see improvement, you'll need to tune in, because it's going to be hard to see in his final stats.
Time To Deal
During Spring Training, there were (and maybe still are) more than a handful who expected the Cubs to be significantly worse this year. Through 77 games last year, the Cubs were 28-49. Now they sit at 33-44; five wins better (which I'm told equates to 50 runs). But this team will get demonstrably worse in the coming days – just like last year.
Soler Out; Bryant Not In
Cubs' prospect Jorge Soler has fractured his tibia. It might signal the end of his season. He's out at least 4-6 weeks, but it could wind up being substantially longer.
And Kris Bryant Scott Boras is playing hardball with the Cubs. It's Boras, so of course this wasn't going to get done early; and I could easily believe this story is a Boras plant. But with barely two weeks to go, the tone of the conversation needs to change or the Cubs risk missing out on Bryant.