Game 69: Samardzija Superb In STL
Written by Jedi Johnson, Posted in General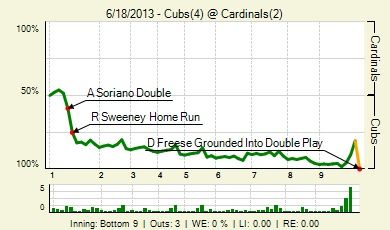 Star of the Game – Jeff Samardzija – .214 (WPA)
---
Jeff Samardzija
We're starting with symmetry again for this game.
Last time out
Samardzija had a lackluster start. On Tuesday in St. Louis, the Cubs spotted him 4 runs before he took the mound. He did (almost) everything else and eventually those runs proved to be enough. Tonight Samardzija was throwing strikes early and often. Only six strikeouts on the night, he benefited from a host of called strikes and four double plays; the last of which came after he had exited but sealed the victory in the ninth.
Dale Sveum
We got an inside look at Sveum's thoughts late on Tuesday. What I'd like to know is why he stubbornly manages this team as if they were just an ordinary, run-of-the-mill baseball team. One of the great dangers for the 2013 Cubs is the bullpen. Dale, understandably, has no idea who is going to perform well and who isn't on any given night. Case in point, Kevin Gregg just pitched in 4 straight games last week, performing well in each of them. After a couple of days off, tonight his scoreline looks fantastic – his performance was anything but…and I don't entirely put that on him. Look down there – this bunch is mediocre (and that's being charitable). Stop treating them like an average bullpen – DO NOT FORCE THEM TO MOP UP UNNECESSARILY AFTER A STARTER! Yes, Samardzija was great tonight. But he'd thrown 103 pitches through eight innings. It seemed an obvious situation to let the closer start the 9th with a clean slate. Yes, that requires that Dale has to sit Samardzija almost certainly against his will. But that's what Dale is paid to do…raising the degree of difficulty unnecessarily is not helping the bullpen. Frankly, Gregg was lucky to get the twin-killing that ended the game, he looked shaky and Freese (the hitter) was the winning run. Moreover, what starter on this team has 'earned' the right to beg successfully for another inning? None of these guys is a Hall of Famer, none are even All-Stars…if Dale can't look any of the current starters in the face and tell them to take a seat what good is he going to be when (if) this team ever gets a star who HAS earned the right to put themselves back into the game (it happened at least one other time earlier this year with Feldman).
Someone had suggested that perhaps Marmol's let down against the Mets had given this team a hangover – if it has, Dale has utter disregard for it. Letting Samardzija start the ninth is exactly the kind of crap that sets your team up to fail. Quade used to put his everyday players (either in the field, or in the lineup) in curious positions where they weren't most able to succeed. Dale has created a habit of using his pitchers in a way that is unfavorable to them. Yes, they've still sucked – but he could do more to set them up NOT to suck. Whether it's Edwin Jackson – who despite being nearly a full run better during night games for his career, can't buy a night start anymore; or games like tonight, where with an obvious setup to the closer, Dale lets Samardzija create a mess to be cleaned up. Tonight the Cubs were lucky in the 9th, the next time it might not go so favorably.
Still…
I don't want to end it on that – it was a really great game from Samardzija. When the Cubs tagged Wainwright for 4 runs in the first I was pretty sure we'd roll over on offense for the remainder of the night. What I was less sure about was which Jeff Samardzija was going to appear on the mound. He's been a rollercoaster ride this year. Cynically, I thought Samardzija's night hinged on the result of the bottom of the 1st – either he shut them down and used that to catapult him to success; or he gave back a couple right away and spent the rest of his night fending off scrappy rallies every other inning. What I loved is how he stayed down in the zone with runners on base, it's a big part of why managed to throw so few pitches – the double plays were huge for him. Great win for the Cubs, very nice to see the good Jeff Samardzija on the mound.