Game 64: Bullpen Bails Out Samardzija
Written by Jedi Johnson, Posted in General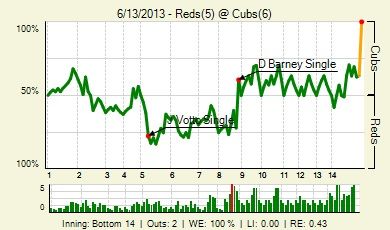 Star of the Game – Julio Borbon – .365 (WPA)
Castro
Last time I recapped a game, I focused on Castro – today's game lends itself to a Castro discussion as well (plus I like the symmetry).
If you are 'glass half full' with Castro – this game had plenty for you. He had three hits, and made two outs while hitting the ball hard (and to the opposite field). He was totally screwed out of his 7th inning at-bat – down 1-2 after seeing three balls, the umpire saw it differently. He narrowly missed ending the game with a HR in the 9th (a double instead), and he swiped two bases – one led to the Cubs' first run, the other to the game-winning run. But for me, none of that mattered. He was aggressive while only being slightly reckless at the plate. He flailed wildly to strikeout in the 7th, and weakly popped out in the 11th, but other than that most of what he jumped out (ball or strike) he hit solidly. He was aggressive from the start, swinging early and often at anything out over the plate. I was pleasantly surprised.
If you are 'glass half empty' with Castro – this game had plenty for you. He came into the game on pace to make 18 errors this year, after the game his pace was 23 errors. He was swinging early in counts at breaking pitches, and even had a couple of chances to work a walk that he wasn't patient enough to get. His 9th inning double could've been a triple if he hadn't Soriano'd it; semi-jogging until it fell short of the basket. And with an RBI ready at second base to tie the game in the 7th, Castro had his worst at-bat of the day. (My heart really isn't in this paragraph, because I don't buy into any of that; but Castro's detractors surely do).
No surprise where I land. His first error forced Samardzija to throw a single extra pitch (Bruce ended the inning on the next pitch). His second 'error' is the kind I can live with. He was deep in the hole with the speedy Cozart running; just to field it, whip it over to first and beat Cozart was impressive. The fact that it pulled Rizzo slightly off the bag even though it beat the runner is why Castro was hung with an error. It's a very good play if he makes it; ultimately it didn't cost the Cubs anything (some shortstops wouldn't even attempt a throw that quickly, and by the time they looked up to see Cozart blazing down the line, they might just eat the ball). Overall, I liked the aggression from him today.
Samardzija
The so-called Shark is back to his usual, inconsistent self. Nothing fearsome about him on this day, tagged for 5 runs in 6 IP and 10 hits while only striking out 6 and walking 4. Yuck. Most distressing, he can't keep his pitch count down. Dale was kind enough to send him out for the 6th inning (an opportunity I didn't think he'd earned, and he proved me right by coughing up another run) even though he'd already thrown 97 pitches through 5 innings. Having to throw almost 20 pitches per inning isn't going to get it done. After three great starts, he's now had three mediocre starts. He can thank the bullpen for bailing him out on Thursday.
Marmol
You could go down the line in the Cubs beleaguered bullpen, everyone did their part on Thursday. But I'm singling out Marmol. The cartoonish slider was dancing all over the place, and Marmol was close enough to the strike zone to make it effective. He recorded three strikeouts and a lot of uncomfortable swings.
There was a lot more to this game – the sun helped DeJesus botch a play, the Reds weren't exactly impressive in the field, Soriano got thrown out trying to stretch for a double, and the bottom of the Cubs order came up big repeatedly. But most importantly, the Cubs broke the Reds stranglehold on Wrigley Field and finally got a win at home against Cincinnati.