Game 60 – Edwin Jackson Ain't Bad
Written by Joe Aiello, Posted in General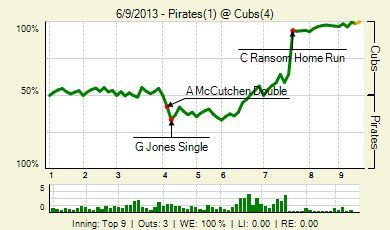 Star of the Game- Cody Ransom (.311 WPA)
---
Edwin Jackson finally did what he is paid to do.  Pitch.  Eat Innings. Win ball games.
Last time he was on the bump I asked whether he really was that bad.  The answer, after looking at some of the more advanced statistics, was that he wasn't nearly as bad as his ERA and W-L record would lead you to believe.  Most likely resulting from a bad sequence of events and missing pitches at the wrong time.
He came back today and did his best Jeff Smardzjia (not yesterday, but you get the point) striking out 8 over the course of 7 innings. His performance lowered his ERA almost an entire point down to a still inflated 5.76.  The game today saw Jackson work in and out, up and down, and pitch with good velocity consistently throughout the game. That may have been the most surprising element of the game, his velocity.
Today saw Jackson pitch consistently with his fastball at 94-96 MPH with good life.  So where was that towards the beginning of the season? Was a nagging little injury keeping him back?  Was the prospect of a new city swaying his focus?  We may not know.  What we would like to see is Jackson continue to pitch like he did today.
Oh, Cody Ransom.  I almost forgot him. The San Diego Padres forgot about him after giving him only 11 PA. (Okay he had all of 0 hits)  He has since come over to the Cubs in 22 games and hit for .270 batting average, with ten of his seventeen hits being of the XBH variety. (5 HR)  He also has stuck out at a Brett Jacksonesque 34.8%.  Yet, I think I can safely say that I enjoy his place on this team.  He is playing good defense, has been a pretty clutch batter, and definitely provides a veteran presence on the young squad.
Good on him for being the player of the game today.  He only made a diving stop and pretty play.  And he hit the game winning three run HR in the 8th.
One last thing. Carlos Marmol. See boxscore above. 1-2-3. Strikes. I don't know.
Discuss.