Game 55- Is Edwin Jackson Really Bad?
Written by Joe Aiello, Posted in General
Star of the Game –  Scott Hairston – .279 (WPA)
---
The Cubs got beat again today.  This time it wasn't the bullpen who opened the flood gates.  It was the starting pitcher who let the game get away in the 6th.  Maybe, Dale Sveum should have brought on a reliever in the top of the 6th with 2 outs and the bases loaded, but with Hector Rondon being the guy you warmed up, is that really the best option you set yourself up with? Rondon doesn't get enough pitching time to be put in a jam like that. If they would just let him loose and learn to pitch he would be a useful pitcher.  When looking at the way our bullpen already is choking on winable ballgames, what's the worst that could happen?  Let's talk about what got us there.
Edwin Jackson (1-7) continues to see his pitches deposited throughout whatever little hole on the diamond there may be. Watching him pitch,  you see a pitcher who looks to be missing spots, getting dominated, and not able to put men down in order.  If he qualified based on innings (which he doesn't because of ran shortened games) he would have the WORST ERA among NL starting pitchers.  The worst.  Does that mean that he is really as bad as his record?  Could the advanced stats clue us in to something different?  Here's the run down.
8.83 K/9
3.34 BB/9
.85 HR/9
.341 BABIP
56.4% LOB
6.11 ERA
3.69 FIP, 3.67 xFIP
What do all the fancy stats tell you?  He is having a really really really bad series of events happening to him.   His strike out rate it currently the best of his career.  His walk rate is a touch higher than career average.  The thing that is killing him is BABIP and LOB%.  His current BABIP is extremely high and more than 30 points higher than his career .310 marks.  His LOB% is 15 points lower than his career average of 70%.  He is having more unlucky balls get down in gaps which is leading to more men scoring, leaving less on base.
Now, I don't understand how ZIPS works too well but they have him projected to finish the season 7-8 with a 3.97 ERA.  I would say, that is what you expect out of Edwin Jackson.  Yet, they also only have him ticketed for 128 IP, that is not what you would expect.
I understand that often times there are pressures that come along with getting paid and getting that first big contract.  Jackson is definitely feeling the pressure and luck just doesn't seem to be on his side.  I could tell you that he looks like he is throwing strikes and his strikeout rates say he is. He is hitting the zone and pounding it pretty hard as evident by the following heat maps.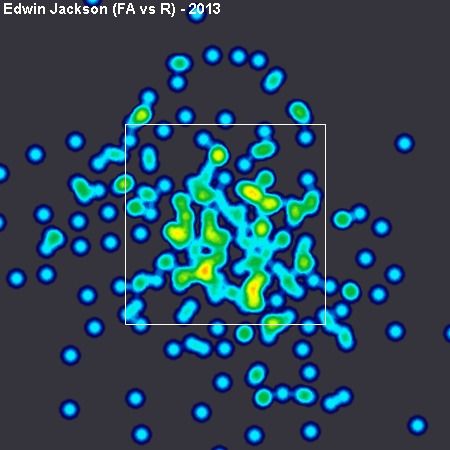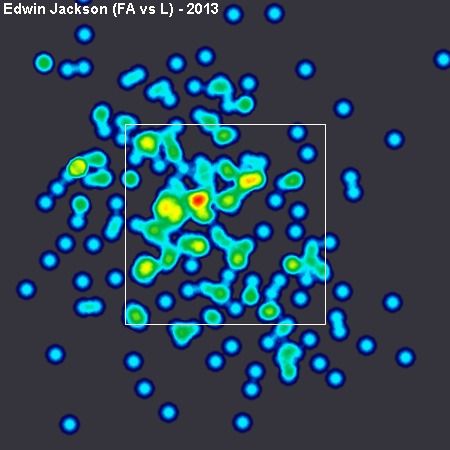 Although the ERA is terrible, and we shouldn't forget that it is leading to the "L" flag flying, Edwin Jackson is not really bad.  Unlucky? Yes!  The seeing eye test may make you think how can he dominate some innings and get smashed others.  That is just the way of unfortunate series of events.
Jackson will get better.  He has some things to work, namely that LOB%.  When the season is over he will be what we expect, an innings eating horse.  Not the lame donkey taking the mound every fifth day now.