Game 50 – Samardzija Savages The Sox
Written by Jedi Johnson, Posted in General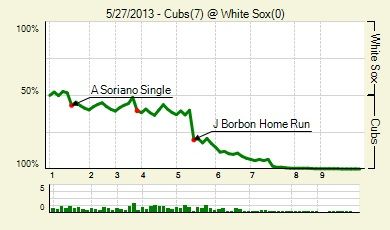 Star of the Game – Jeff Samardzija – .354 (WPA)
---
Jeff Samardzija
After his May 10th start, I was quite critical of Samardzija's 2013 form. His last three starts have removed any possible criticism levied against him. Memorial Day against the crosstown rivals was the best start of 2013 for Samardzija – and perhaps of his career. Completely dominant from the first pitch, the Cubs got a complete game shutout two-hitter from the former Notre Dame standout. And all of that on only 108 pitches. The White Sox never threatened; unable to get two runners on base in the same inning until they had 2 outs in the ninth. Best start of the year by a Cub pitcher.
The DH
At the Cell on Monday was the Cubs first taste of an AL park in 2013. With Dale Sveum's first chance to use the DH, he looked up and down the roster and selected Scott Hairston. Scott Hairston? The Cubs don't exactly have a readymade DH waiting for these games (unless you count Soriano), but Hairston has started as a DH all of 8 times in his career before Monday. There wasn't a mountain of evidence screaming 'you must use Scott Hairston in this situation' so I'm not going to pretend to know Dale's thought process. Let's see who he uses on Tuesday against Chris Sale.
Uniforms
MLB has severe issues with these one-game use uniforms for special days. But the faux camo lettering and numbering that teams donned for Monday's holiday wasn't terrible. And when I say 'not terrible' I mean there's no way I would buy anything the players wore, but it also wasn't so distracting that I felt compelled to turn off the TV. The way he pitched, Samardzija might be looking to wear the camo every time out.
Schedule
A byproduct of the wonky MLB schedule that's always playing interleague games is this weird stretch that the Cubs now find themselves in (I wanted a sentence as awkward as the schedule). Two games at the Cell, followed by two at Wrigley against the Sox for a disjointed 4-game season series (that's right, we're done with the South Siders after Thursday). Then Bob Brenly and the Diamondbacks will be in for 3 games at Wrigley over the weekend, before an off-day on Monday. The Cubs jet to Anaheim for two games with the Angels, an off-day next Thursday and back to Chicago to resume the homestand until June 14. That's 14 of 16 games in Chicago (12 at Wrigley) over 18 days. Weird.