Top 20 Prospects Update
Written by Norm, Posted in General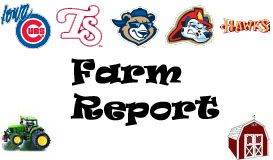 We are well over a month into the baseball season and most full time players have at least 100 plate appearances under their belts. With the Cubs in a rebuilding year, I was pretty excited to watch the development of the young players in the farm system. While preparing this post and seeing the performances of VFTB's pre-season Top 20, all I can say is "Thank God for Anthony Rizzo."
It's not pretty. First, the hitters (all stats through games of 5/14/12):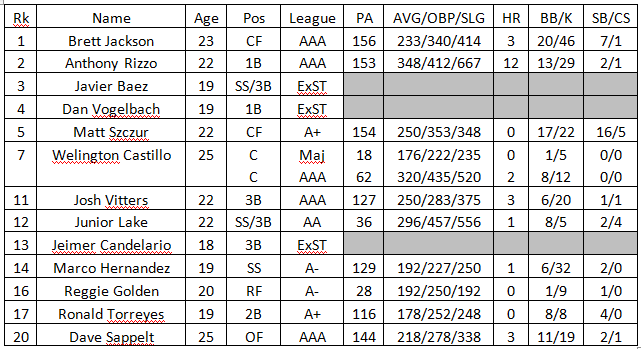 Ugly. Ugly ugly UGLY!
Rizzo is the only prospect that looks like he can handle the level he is at. Welington Castillo was doing pretty good in AAA before Steve Clevenger's injury, but not a lot to be excited about down on the farm.
Except, maybe….Junior Lake. He  just came back from an injury, and is honestly, shocking me, with his patience at the plate. Last year he drew 19 walks all year long…this year he's already at 8 in only 8 games. I was one of his biggest detractors, but this extremely small sample is a complete 180 from his 2011 approach, and outside of Rizzo, is now the most exciting guy that I follow.
It isn't any better on the pitching side:

Trey McNutt has been successful when he's pitched, but has only gotten through the 4th inning one time.
Gerardo Concepcion had a good outing on Tuesday that does not show up in these stats, and has his ERA under 10.00. YAY! He's going to need some time to learn how to pitch.
Rafael Dolis has had the best season so far, but that's not going to continue if he keeps on walking more than he strikes out.
Overall, a very disappointing 2012 so far for at least 11 of the 16 prospects that have played in a full season league. Next week I'll dig a little deeper in the minors and see if we can find a few more players to get excited about.