Interview with Anthony Rizzo
Written by Joe Aiello, Posted in General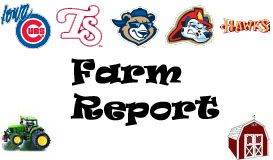 On Saturday, Iowa Cubs first baseman Anthony Rizzo was kind enough to take time out of his day to speak with me. Last season with the Padres organization, Rizzo destroyed the Pacific Coast League but struggled upon a call up to the Majors. Returning to the PCL, this time with the Iowa Cubs, Rizzo is having similar success. The Cubs traded right handed pitcher Andrew Cashner for Rizzo over the offseason, and Rizzo is the first baseman of the future on the North Side.
At the beginning of the season, we rated Rizzo as the Cubs' second best prospect, behind Brett Jackson. While Rizzo is and was the more complete hitter, Jackson's speed and ability to play an above average center field gave him the edge coming into the season. But Jackson has struggled somewhat this season, while Rizzo has been one of the best hitters in Triple A. As a result, I don't think Joe, Norm or myself would be surprised if Rizzo would be named the Cubs' top prospect if we voted again now.  You can listen to my discussion with him right here:
Download the MP3 (4.6 mb)
MAY 14 FARM SYSTEM RESULTS
View the Box Scores Courtesy of First Inning
Top Performers

Iowa
The I- Cubs game was too late to declare top performers, but we can say that Anthony Rizzo hit his twelfth home run of the season.
Tennessee
Junior Lake (3B)-  3-6, 2B, HR, RBI, 4 R, 3 BB, 1K, SB, CS
Jae-Hoon Ha (CF)- 4-8, 2 2B, 1 RBI, 3 R,
Daytona
Nelson Perez (LF)- 2-4, 2 RBI, 2 K, SB
Austin Kirk (SP)- 7 IP, 1 R, 1 ER, 6 H, 5 K, 2 BB
Peoria
Kyler Burke (SP)- 6 IP, 1R, 1 ER, 4 H, 4K, 2 BB
Zeke DeVoss (2B)- 1-2, BB, Sac Bunt, SB