Farm Report: May 9 – Draft Watch
Written by Norm, Posted in General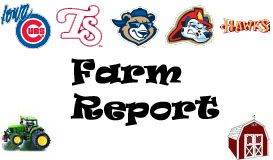 BOX SCORES FROM LAST NIGHT
NOTABLE PERFORMANCES
Iowa (8-7 loss)
Anthony Rizzo (1B)- 1 for 3, HR, 2 BB
Luis Valbuena (2B)– 2 for 3, 2B, 2 BB

Tennessee (4-1 loss)
Logan Watkins (2B)- 3 for 4, 2B, SB (6) (3 of the team's 4 hits)

Daytona (5-1 loss)
Nothing notable here; team had two hits in the loss, both by shortstop Arismendy Alcantara.
Peoria (2-1 loss)
Paul Hoilman (1B)- 2 for 4, 3B, 22 game hitting streak
Kyler Burke (SP)– 6.1 IP, 2 ER, 6 H, 1 BB, 4 K
Draft Watch
The annual Rule 4 draft is just under one month away and our favorite team has the sixth overall pick. This will be the sixth time since the 2000 draft the Cubs have had a single digit pick; previously taking such notables as Lou Montanez, Mark Prior, Ryan Harvey, Josh Vitters, and last year, Javier Baez. The 2012 class is not as top heavy as 2011's ridiculously talented crop, but luckily for the Cubs, the top tier of players goes about eight players deep this year, so they will likely grab one of these players in June's draft. Those eight player plus one wild card:
Byron Buxton, CF, High School
Buxton is widely considered the best talent in this years draft and will be off the board before the Cubs get their pick. He's blazing fast with a cannon of an arm (he's hit 97 mph off the mound) and will be a great defender in centerfield. His tools are raw, so he's not the safest choice, but he's drawn comparisons to Matt Kemp, Justin Upton, and Eric Davis. The Houston Astros, with the #1 pick, might go after one of the college pitchers, but Buxton won't fall out of the top few picks.
Mike Zunino, C, University of Florida
It's a weak year for college bats and Zunino is the best of them. Even in a deeper draft, he's still likely a top 5 pick. The way he is described reminds me of the Cubs own Brett Jackson; none of the tools are "plus", but besides speed, everything is average to above average, and he does it at the most difficult position on the field.
He's not the most exciting pick but most think he's the safest. Also likely to be gone before the Cubs pick.
Carlos Correa, SS, High School
One of the youngest players in the draft, the 17 year old Correa already stands at 6'4″, 190 lbs. Because of that size, most scouts believe he'll have to move off shortstop as his body fills out. He has the arm to handle 3B and the bat should play anywhere. Cubs first round pick in 2011, Javier Baez, was considered one of the better high school bats in last years draft, and I've seen reports saying Correa tops him. He is my preferred choice for the Cubs at six, but his stock has risen in the last week when scouts visited Puerto Rico and he connected with two home runs. Might not make it to six.
Albert Almora, CF, High School
Almora will almost certainly be on the board when the Cubs choose and if the three players above are all taken, the Cubs decision will be Almora or pitching. Almora doesn't have the speed or arm strength of Buxton, but has great instincts and athleticism to expand his range, despite the average speed. He projects as a plus hitter with 20-25 home run potential, above average in centerfield, and is one of the "good makeup" types. I don't think the Cubs take him, but included him because he is the best of the rest of position players.
Mark Appel, RHP, Stanford
Appel was a pre-season favorite, topping the charts of many. He's had an up and down season so there's really no telling where he might go. I think he'll be taken in the top five, but there is a chance he slips. If he does, his stuff might be too good to pass up. He throws 94-97, touching 99 deep into games and has a good change up and breaking ball. Sounds perfect, but for some reason, he's struggling to miss bats in college. He has #1 potential and would instantly become the Cubs best pitching prospect.
Kevin Gausman, RHP, LSU
The other player I think goes top five (along with Appel, Buxton, Zunino, Correa) but has a chance of being around for the Cubs. He's similar to Appel with a 94-97 fastball that's touch 99 (triple digits on some guns) and good secondary pitches, but Gausman is missing more bats this year than Appel and is now in the conversation for best pitcher in college. With Houston maybe leaning towards a college player, Gausman could be taken first overall.
Kyle Zimmer, RHP, University of San Francisco
Zimmer wasn't a top tier player coming into the season, but flew up the charts when he was throwing 94-98 early in the season with a knockout curve. His change is decent and he's very athletic (he's a converted position player) so he fields the position well. He had a velocity drop in April that may have scared some, but it bounce back for a start before missing last weekend with a sore hammy. Zimmer is the toughest to pinpoint; he could go anywhere from 1-9.
Max Fried, LHP, High School
Rumor has the Cubs interested in Fried at #6. 6'3″, 170 lb left hander, he throws 89-93 and is projected to be a command/control pitcher with better secondary stuff than fastball but he could fill out and add a few MPH. Projects as a #2 with three average to plus pitches, although one report I saw had the scout saying he'd take Fried first overall.
One more:
Luc Giolito, RHP, High School
Fried's teammate, Giolito was considered the best arm in the draft before a "minor" elbow injury shut him down early in the season. He just started throwing again, and he's my wild card because if his medicals are clear, he could jump back into the top 5. He has the size (6-6, 230 lbs), fastball (hitting 100 multiple times), and is one of a very few in this draft that has Ace potential. If his medicals are OK, I would love to see the Cubs take Giolito.
I would rank them:
Buxton
Correa
Gausman
Zunino
Appel
Giolito
Fried
Zimmer
Almora