Positional Snapshot: Third Base
Written by Joe Aiello, Posted in General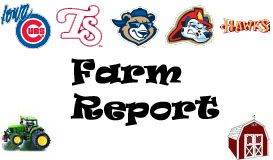 The other day we took a look at the breakdown in the system that is the Catcher position. If you missed the exciting news, that's a shame because you missed all the great names that are performing so well in our system at the catcher position. If only that statement was true. The fact is that the system, from a performance standpoint in 2012, is sorely lacking at Catcher.
Today we look at a position that has been a bit of an eyesore at the Major League level to see what is on the horizon should Ian Stewart not become the man Theo and Jed planned for when they conceived him.
Josh Vitters is the name we routinely hear about as the heir apparent at third base. The problem is that we've been hearing his name year after year after year. People have grown frustrated with his development and are sick of waiting on him to hit the majors. What I would draw your attention to is the fact that he was selected in 2007 out of high school. The first round of that draft, when you factor in compensatory picks, included 30 high school players. Of those 30, only 10 have made it to the Majors in anyway. Of those 10, my guess is that you've only heard of a few. Here are the names of the guys that have made it that have done anything remotely meaningful:
So, essentially that list of 10 gets trimmed to five. It's not unreasonable that Vitters hasn't seen the Majors yet and the fact that he's making decent progress this season in AAA is encouraging to me. He still has a long way to go, but time is definitely on his side. Next time you get frustrated, remember the fact that he's only 22. If we're seeing the same numbers and he's been in AAA for a few years, then worry. Until, patience is the key.
Overall, from a system standpoint, it's a position we've actually gotten fairly decent production from. However, before you go gaga over Greg Rohan's numbers, make sure you note his age and level of the minors.
| | Age | | PA | R | 2B | 3B | HR | RBI | BB | SO | BA | OBP | SLG | OPS |
| --- | --- | --- | --- | --- | --- | --- | --- | --- | --- | --- | --- | --- | --- | --- |
| Stewart, Ian* | 27 | MAJ | 102 | 6 | 3 | 1 | 2 | 10 | 9 | 22 | .204 | .275 | .323 | .597 |
| Vitters, Josh | 22 | AAA | 93 | 10 | 3 | 0 | 1 | 10 | 5 | 16 | .241 | .280 | .310 | .590 |
| Mota, Jonathan | 25 | AA,AAA | 64 | 8 | 4 | 0 | 3 | 10 | 5 | 16 | .288 | .344 | .508 | .852 |
| Samson, Nate | 24 | AA | 79 | 11 | 7 | 0 | 1 | 4 | 8 | 12 | .268 | .342 | .408 | .750 |
| Cerda, Matthew* | 22 | AA | 44 | 5 | 4 | 1 | 1 | 4 | 8 | 11 | .286 | .419 | .543 | .961 |
| Rohan, Greg | 26 | H-A | 132 | 19 | 8 | 0 | 5 | 30 | 14 | 13 | .291 | .364 | .487 | .851 |
| Harrington, Dustin | 23 | H-A | 46 | 4 | 2 | 2 | 0 | 3 | 2 | 11 | .227 | .261 | .364 | .625 |
| Darvill, Wes* | 20 | L-A | 121 | 11 | 2 | 2 | 1 | 10 | 12 | 23 | .259 | .333 | .343 | .676 |
| Zapenas, Brad | 22 | L-A | 83 | 11 | 3 | 0 | 0 | 3 | 13 | 16 | .275 | .390 | .319 | .709 |