Farm Report – May 6: Junior Lake back in action
Written by Norm, Posted in General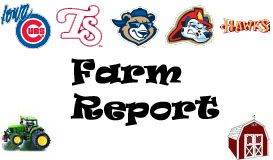 BOX SCORES FROM LAST NIGHT
NOTABLE PERFORMANCES
Iowa (12-4 loss)
Brett Jackson (OF)- 2 for 3, HR (3), BB, K
Jay Jackson (SP)- L, 4 IP, 5 R, 5 ER, 6 H, 3 K, 4 BB
Tennessee (4-2 loss)
Junior Lake (SS)- 2 for 4, 2B, 3B, K, E (1)
Elliot Soto (2B)- 2 for 3, 2 BB, CS
Brooks Raley (SP)– 6 IP, 2 R, 2 ER, 5 H, 1 K, 2 BB

Daytona
Matt Szczur (DH)– 1 for 4, BB, SB (16)
Arismendy Alcantara (SS)– 2 for 5, 2 3B's, K, SB (6)
Peoria (9-2 loss)
Zeke DeVoss (2B)- 1 for 4, BB, K, SB (6)
Rafael Lopez (DH)-  2 for 5
Paul Hoilman (1B)- 1 for 4, 19 game hitting streak
WEEKLY PROSPECT REVIEW
Today we continue the prospect highlight segment on the Farm Report. Every Monday we will look at a prospect or two in the Cubs system. Are they meeting expectations? Surpassing them? Failing to meet them? And why?
Triple A Iowa – Adrian Cardenas (Util)
I'm highlighting Cardenas today because I think he's going to be a guy we see much sooner rather than later. As soon as today, to replace Blake DeWitt with Travis Wood returning to Iowa after his spot start on Sunday, isn't out of the question.
The 24 year old, left handed hitting Cardenas was a supplemental first round draft pick of the Phillies back in 2006. His worst batting average in a minor league season is .295. His worst on-base percentage is .354. This year, he is hitting a solid .319/.376/.521 with only five strikeouts and 11 walks. He won't hit for much power, but he can make contact and draw a walk; a combination that neither Ian Stewart nor Darwin Barney does with any regularity.
Cardenas could be a pleasant surprise with the bat while filling in at 2B and 3B. He can also fill in at short, so he can play three positions, but he'll play them poorly. That's the reason Oakland let him go on waivers in the first place, and why no American League team claimed him before the Cubs…he doesn't have a position.
But that's not a problem for your 2012 Cubs. They are looking for any talent they can find and Cardenas just might be more talented than the current 2B and 3B options in Chicago.
Double A Tennessee – Junior Lake (SS)
Junior Lake is finally back in action, playing in his first game of the season on Sunday and going 2-4 with a double and a triple. Lake, along with Matt Szczur, is a prospect that Cub fanatics love to be in love with while the expert prospect analysts tirelessly attempt to temper the expectations.
He jumped on the radar of many fans in 2011 when at 21 years of age, he hit .315 at Daytona before being promoted to Tennessee. He didn't play all that well there but ended 2011 with 12 home runs and 38 stolen bases. The knock on his offense is that he just doesn't have an idea of what to do (you can actually say the same thing about him at shortstop). His approach as the plate is deplorable; he's only had one season where he's received 20 or more walks and he's struck out a high of 138 times in 2009, and 109 last year. That kind of all or nothing approach makes it very tough to succeed, and is reason why I left him off my personal top 20 Cubs prospect list.
One thing no one disagrees about with Lake is his arm. He arguably has THE best arm in all of minor league baseball. The arm is so good, that combined with his problems on offense and defense, some foresee his future on the pitchers mound.