The Farm Report: Concepcion Gets Roughed Up Again
Written by Joe Aiello, Posted in General, Minor League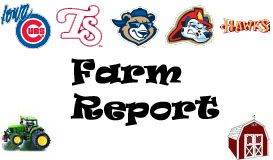 BOX SCORES FROM LAST NIGHT
NOTABLE PERFORMANCES
Iowa
Brett Jackson (OF)- 1 for 5, 2B, 4 Ks
Randy Wells (SP)- L, 5 IP, 3 R, 3 ER, 7 H, 4 K, 2 BB
Tennessee
James Adduci (OF)- 2 for 3, 2B, BB, 2 R, 2 SB, CS
Jae-Hoon Ha (OF)- 1 for 3, 2 BB, 2 R, SB
Rebel Ridling (1B)- 2 for 4, 2B, RBI
Matthew Cerda (3B)- 0 for 1, 3 BB, K
Daytona
Matt Szczur (OF)- 3 for 5, 2 2B, 2 R
Arismendy Alcantara (SS)- 4 for 5, 3B, RBI, R, SB
Nelson Perez (DH)- 5 for 5, HR, 2 RBI, 3 R
Elieser Bonne (OF)-  4 for 5, 3B, RBI, 2 R, SB
Frankie Del Valle (SP)- 6 IP, 1 R, 1 ER, 6 H, 1 K, 1 BB
Scott Weismann (RP)- 2 IP, 0 R, 2 H,  4 K
Peoria
Zeke DeVoss (2B)- 2 for 5, 2 R, K
Taiwan Easterling (OF)-  2 for 5, R, K
Ryan Cuneo (DH-P)- 2 for 4, R, 1 IP, 0 R allowed, 1 H allowed
Gerardo Concepcion- 1 IP, 7 R, 2 ER, 6 H, 2 K, 1 BB
GERARDO CONCEPCION HAS HAD A ROUGH START TO HIS STATESIDE PROFESSIONAL CAREER
Outside of Oakland's signing of OF Yoenis Coespedes, probably the biggest Cuban free agent to sign with with an MLB was 20 year old left handed pitcher Gerardo Concepcion.  Concepcion, who was known as a guy who was polished for his age but with limited upside, benefitted greatly from the impending international free agent limit under the new CBA by netting a $6 million Major League contract.  The consensus is he probably would have received about a $1 million Minor League contract had he not been one of the last significant international free agents not subjects to a spending cap.
After a stint in extended spring training, Concepcion has had a rough time since joining the Low A Peoria Chiefs. In three starts, including last night, he has given up 19 hits and 19 runs, 14 of which were earned, while walking 3 and striking out only 4.
Needless to say, this has been a disappointing start for Concepcion.  While the Cuban left hander was never considered a guy with a huge ceiling (most viewed him as a bottom of the rotation starter in the Majors) he was supposed to run through the lower levels of the Minors pretty quickly.
It's far too early to make any sort of conclusory statements about Concepcion, but he should be watched fairly close. He is not the type who can remain a real prospect if he cannot at least show the polish he was reported to possess.