The Farm Report – May 3rd: Simpson Win, Vitters HR, BABIP
Written by Norm, Posted in General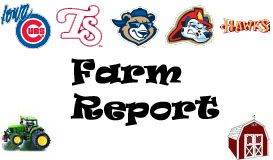 BOX SCORES FROM LAST NIGHT
Iowa / Tennessee / Daytona / Peoria
NOTABLE PERFORMANCES
Iowa:
Josh Vitters (3B): 1st home run of season
Frank Batista (RP): The Cubs Minor League Pitcher of April pitched 1.2 innings, only gave up a hit, and struck out 2. Has a 0.00 ERA so far at Iowa…and picked up the blown save.
Tennessee:
Jae-Hoon Ha (OF): 2-5 with a double
Trey McNutt (SP): 44 pitches, 26 strikes in 2.2 innings. 5 runs (2 earned), 2 walks, 1 K
Daytona:
Rubi Silva (RF): 2-4 with his first home run and first successful stolen base in six attempts
Matt Szczur (CF): 0-3, SB, run
Hayden Simpson (RP): Yup, relief pitcher. And WTF? 4 innings, 1 hit, 0 walks, 4 K's and his second career win. Still, nothing to get excited about if he's still only throwing mid-80's. However, this article mentions he "touched 90" on Thursday.
Peoria:
Zeke DeVoss (2B):  0-5 with 4 K's
Paul Hoilman (1B): Extended his hitting streak to 16 games with a 1-for-4 night.
Pin-Chieh Chen (LF): 3-3 with a double
Bullets
After seeing Hayden Simpson's line, I looked him up and never noticed his career numbers before:
97.2 innings, 1 win, 13 losses, 6.63 ERA, 1.88 WHIP
And he's 23 years old in High A.
I've become more and more interested in Daytona's 2B/OF Rubi Silva because of his line of  333/386/469 (prior to yesterday's game). But minor league numbers are to be taken with a large grain of salt and may not be indicative of 'true talent', so I make completely subjective adjustments to see if I should temper my excitement, proclaim him the next big thing, or, usually, something in between.
His BABIP is .415. To give me a better read on the true talent level of minor league players, as a rule of thumb, I reduce the BABIP down to the .330-.340 range (which is near the high end of sustainability) and subtract the difference from his line. By doing that with Silva, I become less enthusiastic on him maintaining that 333/386/469 line and that line is probably not indicative of his true talent.
Another minor leaguer with some pretty looking numbers, and one we'll probably see in Chicago before the year is over, is Iowa's Adrian Cardenas. He's only struck out 4 times in 93 plate appearances; nearly the best in the PCL. I like what I see in his numbers: 354/398/585 with a .342 BABIP. As I mentioned, that .330-.340 range of BABIP is in the high range, so with Cardenas, even if we project a low range BABIP of say, .290, and adjust from there, he maintains a solid line of 302/346/533 (although I'm not a believer in that slugging).  Cardenas' knock has been his defense, but he is someone I think will contribute in the majors over the next couple of seasons.
I'm not saying that adjusting a minor leaguers BABIP and AVG/OBP/SLG is a sure fire way to see what the team has in a player, but it's a simple process I can do at a glance that I think gives me a better read than just the raw AVG/OBP/SLG line.