The Farm Report: April 30th – Concepcion crushed, Szczur keeps hitting
Written by Norm, Posted in General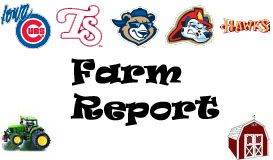 Triple A –Iowa 4, Memphis 5
The I-Cubs faced off against one of the best pitching prospects in baseball for the second time in a week in Cardinals farm hand Shelby Miller. This time Iowa was able to scratch four runs off him, but it wasn't enough as Travis Wood gives up five runs in five innings.
Anthony Rizzo had two hits and two RBI and Adrian Cardenas hit a solo homer off Miller, but the Redbirds bullpen shut down the I-Cubs in the final four innings.
Some odd baserunning notes from this one, as Anthony Rizzo was caught stealing home, and in another inning, Travis Wood somehow stole third base. I believe Rizzo was trying to score when Adrian Cardenas was caught in a rundown (total guess). I have no idea how Travis Wood steals third base.
Double A- Tennessee  had the day off.

High A- Daytona 6, Lakeland 8

Daytona's offense was clicking on Monday and they started the game with three runs in the first inning. Matt Szczur led off the game with a bunt single and a steal of second base. Lakeland would retire the next two batters, but then four consecutive singles pushed across the three runs.
Starting pitcher Frank Del Valle would give up two runs through five innings of work, and would leave with the lead, 5-2, but the bullpen struggled in this one, giving up six run in the final three frames. 2011 draftee Tony Zych came into the game in the 8th inning with the bases loaded and one out and gave up two singles, allowing four runs to cross the plate.
Szczur has really come around in the last couple weeks; in his last 10 games he's hitting 333/435/538, with four doubles, two triples, and 9 for 10 in stolen bases.
Low A- Peoria 4, Fort Wayne 8

Gerardo Concepcion...ouch. He couldn't get out of the first inning, only retiring two batters:
Ground out
Double
Double
Ground out
Single
Home Run
Single
Balk
Hit batter
Walk
Willengton Cruz would come in for the high priced Cuban and give up a bases clearing triple, giving Fort Wayne a cool 7-0 lead after one inning.
The offense couldn't get a run across the plate until the sixth inning. Paul Hoilman extended his hitting streak to 14 games by going 2-4 with a double and Zeke DeVoss had a good game at the plate with two hits, two walks, and two stolen bases.
Notes:
Brett Jackson: 1-3, 2BB, 1K, CS
Anthony Rizzo: 2-4, K, CS
Matt Szczur: 2-5, 3B, SB, K
Rubi Silva: 3-4 (.342 on the year)
Zeke DeVoss: 2-3, 2B, 2BB, 2SB
Gerardo Concepcion: 0.2 IP, 5H, 7ER, 1BB, 0K
Travis Wood: 5.0 IP, 7H, 5ER, 1BB, 4K