The Farm Report: Weekly Prospect Review
Written by Joe Aiello, Posted in General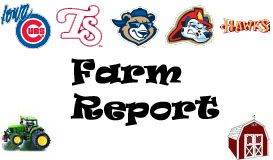 Today we start a new segment on the Farm Report. Every Monday, Joe, Norm or myself will look at one prospect from each level at the Cubs system. Are they meeting expectations? Surpassing them? Failing to meet them? And why?
Triple A- Brett Jackson, OF
Brett Jackson is having a down year, considering the numbers he put up in his first stint at Iowa at the end of 2011. After posting a .297/.388/.551 in forty-eight games in Triple A last season, he is only hitting .241/.333/.434 in twenty games this season. But let's look a bit deeper into the stats. Jackson is walking slightly less this season, with an 11.5% walk rate compared to 13% in 2012. But he's also striking out a bit less. After striking out 29.8% of is plate appearances last season, Jackson has cut his strikeout rate to 26% this season. Jackson is hitting for a bit less power as well. His isolated power (ISO) has dropped from .254 to .193, but .193 is still a healthy ISO.
So what's the real difference? Considering I am the one who is writing this, you may have guessed BABIP. Last season, Jackson's BABIP was .402. This season, however, it is .316. As a left handed hitter with speed, it would not be a surprise if Jackson regularly posted above average BABIPs. But .402 would be the greatest BABIP of the modern era, and .300 is the approximate league average BABIP. So Jackson may have had some bad luck so far this season, but to expect the numbers he posted at Iowa last year in the Majors is not reasonable.
Generally, Jackson's issues remain the same as last season. He strikes out too much, but can hit for power, draw walks, steal bases and hit for some power. He could peak as a 20/20 guy who gets on base at a good pace despite posting low batting averages, even if he does not improve the contact rates. If, somehow, he is able to reduce the strikeouts, he could be a star.
Double A- Jae-Hoon Ha, OF
Prior to this season, Ha was known as a good defensive outfielder with good contact skills, but he did not walk and hit for power. Ha has been something of a disappointment this season, hitting for even less power that last year. After posting a .119 ISO in sixty-one games Tennessee last season, Ha is only posting a .071 to this point in his second stint at the level. He is walking a bit more this season (6.5% this season compared to 4.5% last season), but he is also striking out much more. After striking out in only just 11.5% of his plate appearances last season, he is striking out in 20.4% this season.  The strikeout rate increase has led his batting average to drop from .283 last season to .250 this season.
Ha is only 21, so he is young for the level. However, the fact that his offense has gone backwards this season is not a good sign. When he was a good defender with at least elite contact skills, his floor was at least as a quality fourth outfielder. If he is just a good defender who cannot do much anything offensively, though, he might not be much of a prospect at all.
High A- Matt Szczur, OF
Szczur has been in some ways very disappointing… but in some ways really interesting. To start with the disappointing: his strikeout rate at High A has increased from 11% last season to 17% this season. His batting average has dropped as well, going from .260 in Daytona last season to .233 so far, and he has hit for absolutely no power. Of Matt Szczur's 21 hits this season, only six have been for extra bases: five doubles and a triple.
On the other hand, Szczur has increased his High A walk rate from less than 3% in 2011 to 13% in 2012, and he has stolen eleven bases while being caught three times. With that said, at 22 Szczur is not young for the level. If he is the prospect Baseball America thinks he is, he should be dominating the Florida State League. He still has some time to turn it around, but he needs to do more than just walk and steal bases to look like more than a future Major League reserve outfielder.
Low A- Wes Darvill, IF
Darvill, the Cubs' fifth round draft pick in 2009, did not make our Top 20 prospects list this season, but would have had a good shot to be on the list if we extended it to 30. Drafted out of high school from Canada (just because he celebrates Thanksgiving in October doesn't mean he can't play ball), Darvill has been a level a year guy to this point. He split time between the rookie league Arizona Cubs and the Boise Hawks in 2010, before spending last year with the Hawks. Darvill had put up respectable, but not particularly eye catching numbers over the last two seasons. While Darvill always walked in around 10% and struck out in around 20% of his plate appearances, he did not hit for any power before last season.
The power has jumped significantly every year of his career, though, and this year was no exception. His ISO in Boise in 2010 was just .011,  which means all but one of his hits were singles. And the other one was a double. In 2011 it increased to .063. This year, at age twenty, it has jumped to .114, including Darvill's first professional home run.
Darvill has played all over the infield, and greatly exceeded expectations this year. It is too early to say if the power surge is real or not, but if he can even keep this power up he will become a truly legit prospect. If he can add more power, that changes the equation completely.
April 29, 2012 Round Up
Triple A– The Iowa Cubs and Nashville Sounds were rained out for the second time this weekend. There is no report yet as to when the games will be rescheduled.
Double A- Tennessee 5, Jackson 3
Tennessee won in ten innings on Sunday on the strength of a Jonathan Mota two run home run. Mota had the best offensive day for the Smokies, adding a double and a single to the aforementioned home run. Catcher Michael Brenly posted two singles and an RBI. Most impressively, the Smokies got to Jackson starting pitcher Danny Hultzen, the second pick in last year's draft, for three runs in four and two-thirds innings. Smokies starter Dae-Eun Rhee struggled as well, giving up three runs and four and one-third innings. Scott Weisman, Kevin Rhoderick and Marcus Hatley, though, combined for five and two-thirds scoreless innings out of the bullpen.
High A- Daytona 4, Lakeland 6
Somehow I always seem to have minor league round-up duty when Zach Cates pitches. He struggled less than he had to this point, but still did not pitch particularly well. Cates gave up three runs in five innings, but did only allow five hits and one walk. It would be nice to see him have a few truly strong performances in a row, though. Former top pick Hayden Simpson struggled in relief, giving up two earned runs in one a two-thirds innings. Matt Szczur tallied two hits, a single and a double. Designated hitter Nelson Perez added a single, triple and two RBIs.
Low A- Peoria 5, Fort Wayne 2
Benjamin Wells had his best start of the season, throwing five and one-third innings while giving up no runs. He gave up three walks, but also only allowed two hits and struck out three. Kyler Burke had less luck in relief, giving up two runs in three and two-third innings, but was able to maintain the lead. Several Chiefs, including Wes Darvill, had multiple hits. Designated hitter Taylor Davis was the MVP of the game, though, collecting two hits and a walk. The big thing was that one of those hits was a grand slam.
Transactions: Brian Schlitter was promoted from High A to Double A. Schlitter kinda sorta used to be a prospect, but has not been one for several years now. Daniel Berlind was promoted from Double A to Triple A. Both are relief pitchers, and neither are significant prospects at this point.