The Farm Report: April 28th – A Discussion on Brett Jackson
Written by Joe Aiello, Posted in General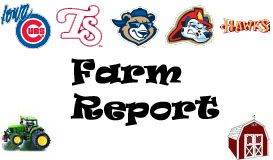 TRIPLE-A – Iowa 0, Nashville 3
At what point to we begin to get frustrated with the progression of Brett Jackson to the point where we a) demote him to AA or b) demote him in our top prospect list. At the beginning of the season, we ranked Jackson the # 1 prospect on our list. Since that time, he's gone on to post rather underwhelming numbers for Iowa. He's struck out in 31.4% of his at bats this season. That's down slightly from his 34% last season in Iowa, but it's not a drastic improvement. That stat alone is enough for me to continue to express concern in his development. He must be able to get fooled less. If you're missing that much facing AAA guys, what are you going to do when you face guys who really know what they're doing? It's concerning to me. Now, all that to say that Jackson went 0-for-3 last night with two strikeouts, lowering his numbers to .233 / .330 / .419. Those numbers, if you factor out the batting average, aren't as bad. I'd like to see the OPS above .800, but that would come with less strikeouts because the average would naturally come up by putting the ball in play more. 
Chris Rusin got the start for the offensively challenged Cubs and did everything in his power to help the team. He exited with a line of 6 IP, 3 H, 0 ER, 2 BB, 4 K. He's pitched very well so far this season in five starts, compiling a 2-2 record with an ERA of 2.63. Rodrigo Lopez made his first appearance out of the pen since being designated for assignment and clearing waivers on April 23. You have to wonder if he feels jerked around at all. He's 36 years old so he doesn't fit into the long term plans, but you feel back watching the guy just try to do whatever he can to hang on. He tossed a scoreless inning of relief in the 7th before turning in over to Casey Coleman in the 8th and 9th. This move confused me a little. I've put call in to Iowa for some info on if Coleman has been demoted from the rotation. That's not a spot I'd want to be if I were him. With Ryan Dempster hurting, but due back and Randy Wells stinking up the joint, this is prime audition time and Coleman is missing out on that shot. He got hit for the only runs of the game and picked up the loss.
UPDATE: I spoke with the media department for the Cubs and they advised me accordingly regarding the strange series of pitchers we saw last night:
Casey's status hasn't changed.  He was scheduled to start Friday when we were rained out and everyone was already on an extra day's rest because of an off-day on Wednesday, so they came up with a plan to try to get everyone some work and stay on some sort of schedule.  The plan going into the game was to get Rodrigo Lopez an inning and Casey Coleman two innings behind Rusin.  Lopez is going into the rotation and will start on Tuesday at Memphis.  Casey will come back next Wednesday and start and then back to Rusin on Thursday.  All three pitchers yesterday are in our rotation.  It was just an unusual case of an off-day and a rainout close together and trying to get everyone their work while disrupting the fewest schedules as possible.
DOUBLE-A – Tennessee 4, Jackson 6
Really not much to report on this game, especially since I went a little long on the Iowa game. Four Smokie hitters put up two hits but no one on this team has really wowed me this season. Outfielder, Michael Burgess, was one of the four with a pair of hits with his coming from a double and his 3rd home run of the season. Dallas Beeler, after beginning the season with three straight nice starts has been roughed up over the last two outings. He finished the night taking the loss after tossing 5 IP, 4 ER, 8 H, 1 K.
HIGH-A – Daytona 7, Lakeland 2
Matt Loosen pitched 2.2 innings in a rehab appearance, allowing one run on two hits with two walks and three strikeouts. Loosen's fastball was consistently clocked in the low-to-mid 90s with his curveball on-point. He didn't pick up the win due to inning requirements, but the Daytona offense supported him nicely with four runs in the bottom of the 1st inning. That would be enough offense to defeat Lakeland. At the plate, Matt Szczur picked up a double and stole his 12th base of the season.
LOW-A – Peoria 5, Fort Wayne 6

The Peoria Chiefs let leads of 3-0 and 5-2 slip away Saturday night in a 6-5 loss to the Fort Wayne TinCaps in game one of a three game series. Taiwan Easterling was the player of the game. He singled twice, stole two bases, scored a run and drove in a run. He finished 2-for-4 and saved a run with a diving catch in center field. Not a bad night for the youngster. Paul Hoilman picked up a double and extended his hitting streak to 13 games while Wes Darvill picked up a single to extend his to 12. Just to remind you that hitting streaks are somewhat meaningless, Hoilman and Darvill are hitting .277 & .276 respectively.
TRANSACTIONS
Anytime the big club makes a move it sets in motion a chain reaction of promotions. With the Wellington Castillo promotion to the Majors to fill in for the injured Steve Clevenger we saw that chain reaction started. Juan Apodaca joins the I-Cubs from double-A Tennessee. Apodaca batted .207 (6-for-29) with three doubles and one RBI in 11 games with the Smokies this season.  He also drew seven walks while striking out five times.  Behind the plate, he was 3-for-14 (.214) in throwing out opposing base runners.  The Cubs signed Apodaca as a minor league free agent in January.  Last season, he hit .184 (16-for-87) in 30 games with double-A Akron in the Cleveland Indians organization.  He was on the disabled list from June 30-August 24 with a broken toe on his left foot.  Apodaca originally signed with the Los Angeles Dodgers in 2003 as a first basemen and converted to catcher in 2004.  He was selected by the Cincinnati Reds in the Rule 5 Draft in 2007 and then traded to the Boston Red Sox.  This is his 10th season in minor league baseball.  He came into this season with a career batting average of .247 with 37 home runs and 207 RBI.  His only other triple-A experience was 14 games with Pawtucket in 2010.  Apodaca is 25 years old and hails from Caracas, VZ
With Apodaco being promoted to AAA, INF Matt Cerda has been activated from the disabled list. Cerda, 21, began the 2012 campaign with the Smokies before heading to the DL on April 17.  In six games with Tennessee, he is batting .211 (4-for-19) with two doubles, one triple and two RBIs.  The Oceanside, Calif. native was selected in the fourth round of the 2008 MLB First-Year Player Draft.