Farm Report: April 27 – Castillo called up, Peoria led by PJ and Paul
Written by Norm, Posted in General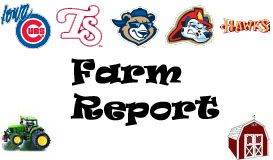 Triple A- Nashville , Iowa

Nashville and Iowa were rained out on Friday. Welington Castillo will be called up to Chicago to replace the injured Steve Clevenger. In other AAA news, the top two position prospects in the game have been called up; Bryce Harper for the Nats and Mike Trout for the Angels (Bobby Abreu was released, and no, the Cubs shouldn't sign him). The timing for Harper was just right for the Nats, as they will now have him under control for an extra season…although I don't expect him to remain up for good, so that's probably moot. But it does mean that the Cubs can bring up Brett Jackson with the extra year…which won't happen because he's just not ready.
Double A- Tennessee 0, Jackson 3

Not much going for the Smokies here. They ran into one of Seattle's top pitching prospects, Taijuan Walker, who improved to 3-0 on the season. Trey McNutt only went three innings for Tennessee; I didn't see a pitch count in the box score, so he either threw a lot of pitches, had blister issues reoccur, or they are easing him back. He only gave up one hit and best of all, no walks.
The offense couldn't do anything against Jackson. They were 0-4 with runners in scoring position and the only extra base hit was Jim Adduci's 5th inning, two out triple.
High A- Daytona 3, Clearwater 4

Another weak offensive performance despite the three runs, Daytona could only muster six hits in the game. The only extra base hit here came on an 8th inning double by Matt Szczur. Pitching was good, with Eric Jokisch throwing seven innings, giving up three runs (one earned), nine hits, two walks, eight K's, but two unearned runs given up cost them the victory.
Low A- Peoria 3, Lake County 0

A victory! This one was led by the pitching of Patrick (PJ) Francescon and the bat of Paul Hoilman. PJ threw a gem for six innings, only giving up two hits while striking out eight. The 40th round pick in 2010 has now thrown 27 innings on the year, with 26 K's and only 4 BB's and 14 hits given up. He is a bit old for the league, at 23 years old, but has been a pleasant surprise for the organization.
Hoilman now has a 12 game hitting streak thanks to a first inning 2-run homer. The 6'4″, 230 pound, first baseman has put together a good  year, but 26 K's in 80 plate appearances for a 22 year old in Low A isn't all that impressive. 19 year old Oliver Zapata continues to hit; he went 2-4, but was caught stealing and picked off.