Farm Report- April 26: Blowouts and extra inning games
Written by Joe Aiello, Posted in General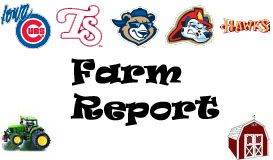 Triple A- Nashville 1, Iowa 7
The I-Cubs were the only farm team to tally a win in the Cubs' organization today. Frankie De La Cruz moved to the starting rotation with Randy Wells' promotion to Chicago and was impressive today, giving up only one run in five innings. The one negative is that he only struck out one hitter, while walking three. Second baseman Adrian Cardenas picked up a double, single and walk, and also tallied four RBIs. First baseman Anthony Rizzo added two hits and two RBIs. The I-Cubs showed a ton of patience, drawing eight walks. Manny Corpas and Blake Parker combined to pitch four scoreless innings of relief.
Double A- Tennessee 2, Jackson 7
Nick Struck did not enjoy meeting Jackson center fielder Denny Almonte.  Almonte hit two home runs off of the Smokies' starting pitcher. Struck gave up seven runs in five and one-third innings. However, relievers Marcus Hatley and Casey Weathers combined for a scoreless final two and two-thirds innings, including Weathers striking out the side in the eighth. Tennessee's offense did not do much, only tallying five hits. No one on the offense reached base more than once, although first baseman Justin Bour did hit a solo home run.
High A- Daytona 3, Clearwater 5
The Daytona Cubs lost on a walk off home run in the tenth inning after tying the game up in the top of the ninth. However, starting pitcher Austin Kirk had a strong outing, giving up two runs in six innings, striking out six while allowing six hits and two walks. After a slow start, infielder Ronald Torreyes continued his strong back half of April, collecting two hits and a walk. Outfielder Nelson Perez added a solo home run in the second inning. Matt Szczur got on base twice in five plate appearances, with one hit and one walk. He also stole his eleventh base of the season, although Szczur did strike out twice as well. Ty'Relle Harris gave up the walk off home run in the tenth.
Low A- Peoria 6, Lake County 7
Peoria also lost an extra inning affair on, but this time it was in the eleventh inning and on a sacrifice fly. Starting pitcher Michael Jensen had his first rough start of the season, giving up five runs in five innings. Jeffrey Lorick gave up the save in the ninth and Austin Reed picked up the loss. Third baseman Wes Darvill tallied two hits, including a two run home run. Second baseman Zeke DeVoss added a single and two walks, and center fielder Pin-Chieh Chen picked up a single and a double. Aside from Oliver Zapata's hot first week in Peoria, Darvill, DeVoss and Chen have been three of the brightest offensive spots in Peoria.  None are top prospects, but all three are legitimate Major League prospects.