The Farm Report: The Concepcion Debut
Written by Joe Aiello, Posted in General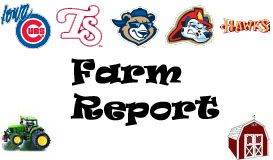 TRIPLE-A – Iowa Cubs
The Cubs spent their off day painting their toenails and playing tiddly winks. There are rumors that Anthony Rizzo and Brett Jackson were seen giving Josh Vitters a weggie, though those rumors are unconfirmed at this time. The Cubs resume their season and try to improve on their rather stinky 8-12 record tonight against the Nashville Sounds. Iowa is currently in second place but already seven games behind the division leading Omaha Storm Chasers. Side note, why do people chase storms? I remember going to see a matinee of Twister when that was in the theaters for my senior ditch day of high school (pretty lame, huh?) and I remember asking the same question then. The only logical reason I could come up with was the fact that they wanted to see cows flying through the air like there was in the movie. What other reason could there be?
DOUBLE-A – Tennessee 1, Jackson 5
Center fielder Jim Adduci finished 3-for-4 and is now had hits in seven out of his last 10 at bats. Brooks Raley failed to pitch a quality start for the first time this season in four appearances. He tossed 5.1 innings, allowing four earned runs on seven hits that included a home run. He falls to 1-1 on the season with a 3.65 ERA. On a side note, apparently the Cubs have someone named Elliot Soto in the organization playing for the Smokies. I went to school with a guy named Elliot Soto. A quick check on his picture reveals….not him. The Smokies also have added RHP Scott Weismann to the active roster. Weismann, 22, comes to the Smokies for the first time in his very young career.  He began the 2012 season with the Low-A Peoria Chiefs, where he had no record with a 3.52 ERA (3 ER/7.2 IP) in five relief appearances.  The Boxborough, Mass. native was selected by the Cubs in the 46th round in the 2011 MLB First-Year Player Draft.
HIGH-A – Clearwater 4, Daytona 6
Matt Szczur, everyone's favorite salad dressing dude, continues to have little to no performance pulse. Each day I write about the minors I kindly ask him to extend his wrist so I can check and each time I have to regrettfully inform everyone that he's still dead. He had an 0-for-3 performance last night with a walk. There was a slight blip on the ekg that we thought might be a heartbeat when he stole a pair of bases, but alas….still dead. Did you know Brian Schlitter is still in the organization? Liar. You did not. He tossed a pair of scoreless innings of relief to pick up his 2nd hold (what a stupid stat) and lower his ERA to 1.17.
LOW-A – Lake County 6, Peoria 3
The story of the night was the debut of Cuba signee, Gerardo Concepcion. Would it be wrong to hope that his run in pro ball with the Cubs lasts even half the time of Fidel Castro's reign in Cuba? Too soon? I better ask Ozzie Guillen on that one before I post this. Concepcion allowed five runs on eight hits over five innings of work in his professional debut. He didn't give up a run after the first inning and struck out two with one walk. Overall, not a bad debut for the kid. I'll take it. Hopefully he develops quickly and we can see him facing some tougher competition.
AROUND THE WEB
J.J. Cooper had a blog post about Hayden Simpson on Baseball America:
When the Cubs drafted Hayden Simpson in the first round in 2010, they left many teams shocked, as Simpson was generally though to be a third to fifth-round talent heading into the draft. Two years later, the Cubs' decision to buck the industry consensus isn't paying off.

Simpson's mid-90s fastball continues to be missing. Last year, Simpson's fastball dipped to the mid-80s. At the time the Cubs blamed it on a bad case of mononucleosis, and then there was a stress reaction in his elbow. But a year later, there are some legitimate concerns that Simpson's velocity may never get back to what it was back in 2010.

At this point, Simpson is having to try to survive without a pitch that misses bats. It's a nearly impossible task as he's struck out four of the 88 batters he's faced this year.