Game 18 – Soriano Snatches Series Win For Cubs
Written by Jedi Johnson, Posted in General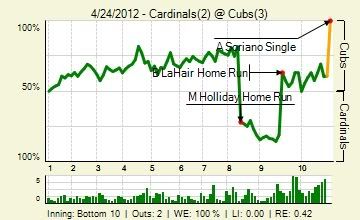 Cardinals 2 @ Cubs 3 (10 innings)
Box Score / Highlights / Condensed Game
Series Win: Perhaps the most important thing to come from this game – the Cubs finally won a series, and tomorrow they'll aim for their first sweep of the season. It also marks 3 wins from the last 4 games. You could say they are surging.
Samardzija: He really had the splitter working tonight. When he can get that kind of action AND throw in the high 90s, it takes so much pressure off of his other pitches. He wasn't nearly as sharp with his secondary stuff, but the action he had on the splitter had the Cardinals fooled most of the night. Nine strikeouts is great; 90 pitches through 6.2 IP is even better.
Soriano: He still needs to be jettisoned from the roster ASAP, but on this night he was integral to the win. He was fairly patient at the plate and it paid off with a 3-for-5 night and the GWRBI. His 4th inning double set the table for a big inning that never materialized – because even the win couldn't keep the bottom third of the order from being terrible.
LaHair: His last two HRs have been opposite field bombs. Why should Baker EVER see the starting lineup at 1B again? Don't overthink it, he shouldn't.
DeJesus: This team needs all the help they can get, and DeJesus gave it to them in the form of taking a good look at a lot of pitches. DeJesus saw 27 pitches (he led off in four different innings), and I'm sure it's just coincidence, but the 1-5 hitters combined for 9 hits and all 3 RBIs.
Stewart & Barney: The 4th inning at-bats from Stewart & Barney were horrible. If 'lucky' is being fortunate enough to face two complete idiots, then Wainwright was lucky. Stewart, for whatever reason, doesn't like to swing at strikes. He struck out on 3 pitches; watched one strike and swung at two balls. Barney's at-bat was, remarkably, worse. With first base open and Soto then Samardzija following him, Barney got a healthy diet of balls off the plate away. He apparently felt they were on the corner because he kept swinging and fouling them off. If Barney hadn't moved the bat from his shoulder, he'd have been standing on first base (which is exactly what Soto then did before Samardzija popped out to end the threat).
Cardinals Griping: Manager Mike Matheny was not a happy man on this evening. From DeJesus' slide to score the Cubs first run (he didn't tag the plate, Molina didn't tag him either – in fact if you watch the replay DeJesus is about to dive back for the plate just as the umpire calls him safe. DeJesus DID tag the plate on his way back to the dugout) to Campana's 'steal' of 2B in the 10th, the Cards felt they got the shaft at important junctures. Campana was out, that's not really up for debate. But after watching Molina smugly chastise the umps on both plays, I won't shed a tear for their misfortune. Molina is a Dikembe Mutombo finger-wag away from unseating AJ Pierzynski as the guy I most enjoy watching get screwed by the umps.
Marmol: It couldn't all be sunshine and lollipops. I'm still confused as to why Sveum yanked Dolis in the 8th with 2 out and one on. Marmol hasn't even close to mastered the 3-out save, why reach for the 4-out save? If the answer is that Dolis didn't look great…well, ok – but it wasn't like we brought in someone who inspires confidence. I didn't like the move and I doubt Sveum will make that mistake again anytime soon. Marmol gave up a go-ahead HR to the first batter he faced, and walked the next batter Beltran. In an attempt to pick off Beltran he launched the ball into the tarp behind first base. He came in with a one-run lead and a runner of first, before he recorded an out he had created a one-run deficit and a runner on third. Some closer.