Farm Report: April 23 – Walkoff grand slam, Szczur hitting, Kyler Burke transforming
Written by Norm, Posted in General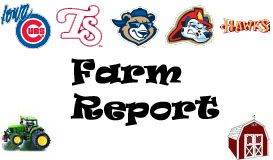 TRIPLE-A: Memphis 4, Iowa 0

Iowa ran into one of the top pitching prospects in all of baseball in Cardinals farmhand Shelby Miller. The game started off promising, with Brett Jackson taking a leadoff walk and then a steal of second. Dave Sappelt then walked, followed by a Luis Valbuena strikeout. Anthony Rizzo came up and lined a single to load the bases, but Miller, the #8 prospect in baseball according to Baseball America, was able to get out of the jam by striking out Welington Castillo and forcing a fly out. The I-Cubs were able to sprinkle seven hits on the day, but couldn't push a run across the plate.
Travis Wood picked up the quality start by going six innings, striking out eight, and giving up two runs (one earned).

DOUBLE-A: Chattanooga 7, Tennessee 5
The Lookouts jumped out to a 7-0 lead by the third inning, with Dae-Eun Rhee giving up five in the first. The defense didn't help, with two errors in the frame, but Rhee gave up four straight hits to start the game. The Smokies tried to make a game of it with four runs in the eighth, but they just couldn't climb out of the hole.
Jae-Hoon Ha had three hits, including two doubles, and James Adduci had a pinch hit three run double, but Rhee takes his first loss of the season.

HIGH-A: Daytona 5, Lakeland 13

Daytona jumped out to a 1-0 lead just two batters into the game when Arismendy Alcantara singled home Matt Szczur, who led off the game by dropping down a bunt and and reaching second on a a throwing error. Hayden Simpson was even able to get three outs before the runs started pouring in for the Flying Tigers. They'd score a run in the 2nd, 3rd and 4th innings before putting up a five spot in the 5th.
Simpson would throw 4.1 innings, giving up eight hits, six runs (five earned), with SEVEN walks and two K's as he fell to 0-3 with an ERA approaching 8.00 on the season. The bullpen wasn't any better, giving up seven more runs and four more walks. Just ugly.
The offense was able to score five runs on twelve hits, led by Dustin Harrington's 3-4 night. Szczur was on base four times, including two free passes, and has his average up to .225 in the early going.

LOW-A: Lansing 2, Peoria 6
A win! This game was scoreless for eight full innings. Joe's boy Kyler Burke pitched the best game of his short pitching career, going six innings, only giving up four hits, a walk, to go with four K's. Ben Wells came in to pitch, would get through the seventh and eight without much of a problem, but would give up the two runs in the ninth on three hits.
But the Chiefs would would come back in the bottom half of the inning. Yaniel Cabezas and Pin-Chieh Chen would start the inning off with singles. Zeke DeVoss came up to sacrifice them over, but the pitcher had trouble fielding the ball and everyone was safe. Wes Darvill was next and lined a double to right to tie the game and put runners at 2nd and 3rd with nobody out.
Lansing would intentionally walk Ryan Cuneo to bring up Paul Hoilman, who would go on to hit a walk off grand slam to seal the win for the Chiefs.
I'm not sure what to think about Burke yet; the Cubs have had some success at converting position players to pitchers with Randy Wells and Carlos Marmol being examples, and Burke does have a promising 13/2 K/BB ratio. I'm definitely more interested in his performance now than I was a month ago.
Also wanted to note that Cuban signee Gerardo Concepcion will make his first start for Peoria today.


GAME STATS
Brett Jackson: 0-3, 2BB, 2K, SB
Luis Valbuena: 2-4, 2K
Anthony Rizzo: 1-4, E (4)
Welington Castillo: 2-4, K
Josh Vitters: 1-4, K
Jae-Hoon Ha: 3-5, 2K, E(2)
Matt Szczur: 2-3, 2BB
Rubi Silva: 2-5, 2K
Zeke DeVoss: 1-4, 3K
Travis Wood: 6IP, 2R/1ER, 7H, 2BB/8K
Dae-Eun Rhee: 5IP, 7R/5ER, 9H, 1BB/5K
Hayden Simpson: 4.1IP, 6R/5ER, 8H, 7BB/2K
Kyler Burke: 6IP, 0R, 3H, 1BB/4K
Ben Wells: 3IP, 2R/2ER, 5H, 0BB/2K