Farm Report: April 23, 2012
Written by Joe Aiello, Posted in General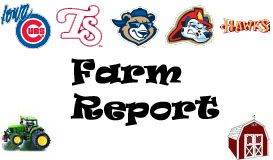 Triple A- Memphis 6, Iowa 2
The I-Cubs played an early game on Monday, starting just after noon. It appears they might have needed a bit more sleep, as they never led. Starter Jay Jackson had a rough start, giving up five runs (four of which were earned) in five innings. The only Cubs to reach base more than once were Brett Jackson and Anthony Rizzo.  Jackson had two singles, a stolen base and a run scored, while Rizzo added a single, a double and a walk. Right handed reliever Frank Batista had a solid debut in Iowa after being called up from Tennessee, going two scoreless innings.
Double A- Chattanooga 4, Tennessee 5
Dallas Beeler decided that he wanted be like everyone else and not pitch very well, giving up four runs in five and two-thirds innings. The good news was that the bullpen was great, with four pitchers combining to go six and a third innings in this twelve inning affair. Jonathan Mota played eleven innings in left field, getting on base in three of his five plate appearances including a solo home run. Then he went on to pitch a scoreless twelfth inning and get the win. First baseman Justin Bour knocked in third baseman Nate Samson for the walk off single.
High A- Lakeland 7, Daytona 2
Starting pitcher Zach Cates had another rough night in Daytona, giving up three runs on six hits in just four innings. The sad thing is that performance solidly improved Cates' ERA, which is currently sitting at 15.12. Outfielder Matt Szczur went one for three and was hit by a pitch. Left fielder John Andreoli reached base in three of his four plate appearances, compiling a single and two walks. However, Daytona only logged three hits for the game, all of which were singles.
Low A- Lansing 7, Peoria 3
Jose Rosario continued the day's trend of bad starting pitching among the minor league starters, giving up four earned runs and one unearned run in five innings. On the offensive side of the plate, third baseman Wes Darvill had a solid game, posting a single and two walks. Second baseman Zeke DeVoss added a single and a walk as well. While shortstop Marco Hernandez logged a hit in three plate appearances today, his season numbers continue to stand at an atrocious .117/.154/.183. With 2011 first round pick Javier Baez reportedly looking like a man among boys in extended spring training, it would not be a surprise to see Hernandez and Baez switch places in the near future.