The Farm Report: 4/22
Written by Joe Aiello, Posted in General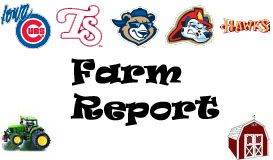 TRIPLE-A: Iowa 2, Memphis 1
Chris Rusin got the start for the Cubs and pitched masterfully to help snap a five game losing streak for Iowa. He picked up win number two on the season, going eight strong innings of shutout ball while scattering just two hits and striking out four. Blake Parker came in for a save in the 9th, allowing a run in the process. Thankfully that was the only damage as the Cubs offense was, for the most part, non-existent. Josh Vitters and Brett Jackson were a combined 0-for-7. Both are less than impressive at the plate so far. Anyone thinking that the deal to move Marlon Byrd means that Jackson is packing his bags for Chicago is sorely mistaken. Jackson, to put it kindly, is not ready.
DOUBLE-A: Tennessee 6, Chattanooga 7
Down two runs heading in the bottom of the ninth, the Smokies were primed to at least send the game into extras.  Jim Adduci and Elliot Soto led off the inning with back-to-back singles.  Logan Watkins brought home Adduci with a fielder's choice, cutting Chattanooga's lead to 7-6.  After Jae-Hoon Ha flew out and Justin Bour singled, Rebel Ridling stuck out to end the game. Ryan Searle gave up three runs over the third and fourth innings to give the Lookouts a 4-3 lead.  Searle allowed four runs on seven hits in four innings of work.
HIGH-A: Daytona 6, Lakeland 2
I didn't get a media release on this game so I'm not quite sure the reason for this note, but it makes me scratch my head just a little. Matt Loosen made a start on April 5th and went 0.1 innings, allowing 3 ER thanks to 4 BB. It's a quick hook, but he probably looked terrible. His next outing was yesterday, almost three weeks later. He went two innings, allowing no earned runs and was done for the day. My only thought is that either A) He was hurt after that first start (though I don't remember seeing him go on the DL) or B) He just hasn't built up arm strength, but then why wait almost three weeks in between starts?
LOW-A: Peoria 2, Lansing 0
PJ Francescon turned in the first quality start by a Chiefs pitcher not named Michael Jensen Sunday earning his first win of the season. The right-hander went a career-high seven innings, allowing just one hit, walking one and striking out five. The shutout was the first of the season for the Chiefs. The game lasted a season-low two hours and seven minutes (my kind of game). Zeke DeVoss was 2-for-2 out of the leadoff spot with a walk and a run scored.