Farm Report: April 21 – Good pitching, early season surprise, and an early look at stats
Written by Norm, Posted in General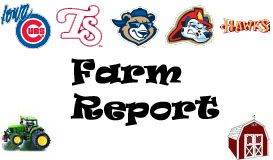 Triple A – Memphis 12, Iowa 7

Iowa lost their fifth straight game on Saturday against the visiting Memphis Redbirds. Casey Coleman pitched a good game, going six innings while giving up two runs on five hits and four walks while striking out a season high seven batters. Jeff Beliveau was able to finish the seventh inning, but things fell apart for him and the bullpen in the eighth:
Walk
Double
Single
Pitching change – Manny Corpas
Walk
Single
Single
Wild Pitch
Wild Pitch
Home Run
Single
K
K
Home Run
K
Nine runs. I think it's time to give Manny Corpas his unconditional release.
With Tony Campana called up to Chicago, the lineup now features Brett Jackson leading off. He had his first multi-hit game in a week, going 2-5 with a double and one K. Dave Sappelt was the offensive player of the game, 2-4 with a walk and a home run, three runs scored, two RBI and one for two on steal attempts.
Anthony Rizzo and Adrian Cardenas chipped in two hits, and after a scorching hot start, Josh Vitters was 0-3 and saw his average drop to .269 on the year. How quickly those small samples change.

Double A – Chattanooga 2, Tennessee 4

Tennessee's bullpen performed much better in this game, and was able to lock down the win for starter Nick Struck. Struck went five innings, gave up two runs (one earned) on four hits and three walks while chipping in five K's. Jeffry Antiqua and Marcus Hatley combined for four scoreless innings.
The 3, 4, 5 hitters for the Smokies went a combined 7-10 with a walk and a stolen base, but the team did not have an extra base hit in the game.

High A – Tampa 2, Daytona 13

A blow out as Daytona scored in six of their eight innings at the plate with seven of the nine starters had multi-hit games. Matt Szczur was 2-6 with two runs and a stolen base, hit fifth of the year. Ronald Torreyes added two hits (five in two days) and a walk while scoring three times.
Eric Jokisch started, pitching 5.2 innings, giving up seven hits, two runs, three walks, and adding two K's. The bullpen gave up just one hit in 3.1 innings of work.
Low A – Great Lakes 2, Peoria 1

Surprise performer of the early year goes to Peoria's starting pitcher, Michael Jensen. He went seven innings and only gave up two hits and a walk, while striking out six. His season stats are below, but at first glance, Jensen appears to be off to the best start among minor league pitchers.
Unfortunately he wasn't able to get the win, as the offense was shut down by Great Lakes starter, Jarret Martin, and the bullpen who combined to strike out 16 Chiefs on the day. The 1, 2, and 3 Chiefs batters had eight of those K's.
Zeke DeVoss was the lead off man and Pin-Chieh Chen batted second; both went 0-4 with three K's. Oliver Zapata continues to make the most of Reggie Golden's injury and went 2-4 with a stolen base.
Year to Date Stats
AAA
Brett Jackson (CF):    254/346/493, 2 HR, 9/21 BB/K, 2/0 SB/CS
Anthony Rizzo (1B):    369/406/708, 7 HR, 3/15 BB/K
Dave Sappelt (OF):    237/286/407, 2 HR, 4/9  BB/K
Adrian Cardenas (2B):     333/365/561, 2 HR, 4/3  BB/K
Josh Vitters (3B):    269/328/308, 0 HR, 5/6  BB/K
Luis Valbuena (2B):    348/439/543, 2 HR, 8/14 BB/K
Welington Castillo (C): 333/457/583, 2 HR, 6/9  BB/K
AA
Logan Watkins (2B):     290/380/355, 1 HR, 8/10 BB/K, 4/1 SB/CS
Jae-Hoon Ha (RF):     276/358/328, 0 HR, 6/14 BB/K, 2/1 SB/CS
Michael Burgess (OF):     267/346/444, 2 HR, 6/11 BB/K
HiA
Matt Szczur (CF):    194/296/210, 0 HR, 8/12 BB/K, 5/2 SB/CS
Ronald Torreyes (2B):     256/360/372, 0 HR, 5/6  BB/K
Rubi Silva (OF/2B):     356/420/467, 0 HR, 5/10 BB/K
LoA
Zeke DeVoss (2B):     224/318/362, 1 HR, 6/13 BB/K (4 errors)
Marco Hernandez (SS):     111/153/185, 1 HR, 3/15 BB/K
Rafael Lopez (C):     283/346/370, 0 HR, 5/5  BB/K
AAA
Casey Coleman:    21.1 IP, 3.80 ERA, 10/18 BB/K, 2 HR, 1.27 WHIP
Travis Wood:         17.1 IP, 5.19 ERA, 5/18  BB/K, 2 HR, 1.50 WHIP
Jay Jackson:          15.1 IP, 5.87 ERA, 7/11  BB/K, 2 HR, 1.43 WHIP
Randy Wells:          14.1 IP, 9.42 ERA, 6/10  BB/K, 3 HR, 1.53 WHIP
AA
Nick Struck:             22.0 IP, 2.45 ERA, 10/21 BB/K, 0 HR, 1.23 WHIP
Brooks Raley:          19.1 IP, 2.79 ERA, 2/8   BB/K, 1 HR, 0.93 WHIP
Dae-Eun Rhee:        17.0 IP, 4.76 ERA, 4/13  BB/K, 2 HR, 1.29 WHIP
Trey McNutt:          11.2 IP, 0.77 ERA, 7/11  BB/K, 0 HR, 1.29 WHIP
Jeffry Antigua:       11.0 IP, 4.09 ERA, 4/12  BB/K, 2 HR, 1.36 WHIP
HiA
Eric Jokisch:           23.2 IP, 4.56 ERA, 10/17 BB/K, 2 HR, 1.44 WHIP
Austin Kirk:             23.1 IP, 1.54 ERA, 5/9   BB/K, 0 HR, 0.90 WHIP
Hayden Simpson:  12.2 IP, 7.11 ERA, 5/3   BB/K, 3 HR, 1.82 WHIP
LoA
Michael Jensen:     24.0 IP, 1.50 ERA, 5/18  BB/K, 1 HR, 0.71 WHIP
Ben Wells:                 14.1 IP, 6.28 ERA, 2/11  BB/K, 0 HR, 1.47 WHIP
Kyler Burke:            11.1 IP, 1.59 ERA, 1/9   BB/K, 0 HR, 0.97 WHIP