The Farm Report: April 20- Ronald Torreyes Shows Off the Contact Skills
Written by Joe Aiello, Posted in General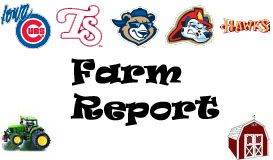 Transactions
I normally put transactions last, but since all the transactions impacted the MLB club, I will lead with those today. With Kerry Wood on the DL, the Chicago Cubs called up Iowa Cubs left handed reliever Scott Maine. Maine had given up just one run in six and one-third innings in Iowa this season, and itched a scoreless inning in his season debut for Chicago. Maine was replaced on the Iowa roster by left handed pitcher Sheldon McDonald, a 33rd round draftee last season who had not pitched above short season ball. Based on that, I kind of doubt McDonald will be in Iowa long, but was just easy to send to Iowa very quickly. There has been no official transaction yet involving starting pitcher Randy Wells, but he was sent to Chicago to potentially start for Ryan Dempster on Sunday. Dempster had an MRI done on his calf, but there have not yet been reports of the results. The most I have seen is that he is "doubtful" to start on Sunday.
Triple A- Iowa 4, Albuquerque 5
The Iowa Cubs were swept by Albuquerque on Friday night. Frankie De La Cruz and Esmailin Caridad, both relievers to this point in the season, made a decent effort in their attempt to combine to replace Randy Wells, who was supposed to start this game before being sent to Chicago. They gave up five earned runs in seven innings, although on just six hits and three walks. Offensively it was not a great game for the I-Cubs, with only Alfredo Amezaga and Edgar Gonzalez reached base more than once. The bigger name prospects, Brett Jackson, Anthony Rizzo and Welington Castillo, did not reach base, although Jackson did not strike out for the third game in a row. Presumably if he keeps making contact, some of those hits will start falling for a left handed speedster like Jackson.
Double A- Chattanooga 2, Tennessee 3
Brooks Raley had another strong start for the Smokies, going six innings and allowing only two runs. He only struck out three, but also only allowed one walk and induced a lot of ground ball (seven ground outs compared to three fly outs). Kevin Rhoderick and Alberto Cabrera pitched three scoreless innings out of the bullpen to finish the game. On the offensive side, shortstop/second baseman Logan Watkins, outfielder Jae-Hoon Ha and catcher Juan Apodaca all reached based multiple times, which Ha and Apodaca collecting two hits and a walk a piece. Ha has been interesting this season in particular. Prior to this season, he was a good defensive outfielder with good contact skills, but he didn't draw walks or hit for power. The defense is still strong and he still is not hitting for power, but Ha's walk rate has jumped from 4.5 percent last season to 9.5 percent this season. Unfortunately, his strike out rate has nearly doubled as well. If he can add at least consistent doubles power, though, he could be a very good major leaguer.
High A- Daytona 9, Tampa 2
The Daytona Cubs actually dominated an opposing team, logging just their third win of the season in fourteen tries.  Starting pitcher Austin Kirk went seven innings while only giving up one run. Third-baseman Greg Rohan put the game out of reach early with a second inning grand slam that made gave Daytona a 7-0 lead. Ronald Torreyes showed the elite contact skills he was reported to have after he was acquired in the Sean Marshall trade, going three for three with two doubles and a triple, as well as drawing a walk. First baseman Richard Jones also logged three hits. High ranking prospect Matt Szczur only logged one hit in five plate appearances, but it was a double.
Low A- Great Lakes 7, Peoria 5
Unlike his counterparts at Tennessee and Daytona, Chiefs' starting pitcher Wilengton Cruz did not have a good day, giving up five runs in five and two-thirds innings. Offensively, the Chiefs drew seven walks, but also only had five hits. Outfielder Pin-Chieh Chen had a two RBI double in the second inning, and outfielder Oliver Zapata, who had been absolutely on fire since being called up to replace the injured Reggie Golden, was held to just one single.