Game 14: Match Burns Three Times
Written by Jedi Johnson, Posted in General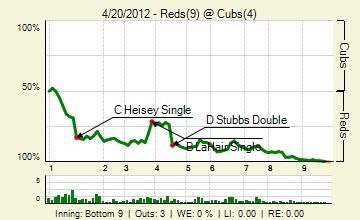 Reds 9 @ Cubs 4
Box Score / Highlights / Condensed Game
My Dad has this little trick with matches – he can make them burn three times.
Offense: Don't let the final score deceive you, the Cubs' offense did NOT look good today. Homer Bailey is NOT a good starter. Sporting a 5.40 ERA coming into play, he surrendered a single earned run. The Cubs refused to take pitches; Bailey walked no one (he'd walked 7 in his first two games) – they wouldn't let him (another game gone by without a single player seeing 20 pitches). Sure a few guys are hitting the ball hard, but with only 3 starters and PH Blake DeWitt getting a hit today, this offense is headed nowhere fast if we can't find a way to put more than one guy on base in an inning. Both innings in which we put more than one guy on base today were the direct result of Reds' errors.  It wasn't a good day for the Cubs at the plate.
With the right kind of match, you can fashion the base into a combustible tip; effectively double-tipping your match.
Defense: You could easily the blame the weather for some of the fielding troubles on this day. The two teams combined for five errors; the Reds' errors were actually more costly (they surrendered 3 unearned runs to the Cubs to 1). If you didn't watch the game, know that Castro's error today was self-preservation (not one of those nasty 'lack of focus' errors we see from him too often). With Drew Stubbs running in the first inning, Geo's throw to second tailed violently into Stubbs' path. Castro alligator-armed the catch – as Brenly pointed out – likely to save his left wrist from a collision with Stubbs's chest/face. It's a good thing Gary Darling didn't turn around to watch the play at second any earlier, Soto's throw would've drilled the second base umpire in the head. Anyway, it was Byrd kicking the ball around that led to the unearned run surrendered by the Cubs. LaHair's error was ugly, and Soto looked crossed up far too often, although he escaped the day without being statistically punished for his defense. It was a bad for the Cubs' in the field.
Strike the tip of the match against the box. Match burns once.
Pitching: Cubs' pitching is beyond awful. Volstad seems unable to keep his pitch count low – and he's not even our worst starter. Tomorrow we get Paul Maholm. Gross. We have guys who come in from that mound/bench area in left field…I'm not going to call them relief pitchers – they don't relieve anyone. They're distress pitchers, as in 'I'm greatly distressed at who we're bringing in now.'  They apparently feel it's their 'right' to give up a run or two.  It was a terrible day for the Cubs on the mound.
Strike the base of the match against the box. Match burns twice.
Takeaway: I wish someone would take the beginning of this season away. A really rough first two weeks here. Today the Reds recorded their franchises 10,000th win, and have every reason to expect to leave Chicago with 10,002. When you can't get a single hit from your 5-9 spots in the order (save DeWitt's PH double), you won't win much…the Cubs are proving that beyond a reasonable doubt.
With the base of the match still burning, rub out the flame on the skin of a curious onlooker. Match burns three times.
That's how I feel about the Cubs right now; watching a game is akin to being the onlooker who unwittingly extinguishes the flame. The joke is on us, this team is terrible and that's not changing anytime soon. Like the 2012 season, this game was over nearly as soon as it started.