The Farm Report: Free Anthony Rizzo?
Written by Joe Aiello, Posted in General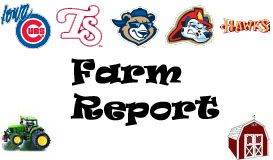 TRIPLE-A: Iowa 4, Albuquerque 3
For the second time this season, Anthony Rizzo went yard twice in a game. Last night he went 2-for-3 with a pair of home runs and a walk and now leads the PCL with seven homers on the season. There have been many that have been screaming for the Cubs to call up guys like Rizzo and Brett Jackson to make the season more interesting to watch, to which I reply: If you want to watch these guys, watch the Iowa Cubs. There is no reason to call them up at this point. Let them continue to develop. I'd rather them spend just a tad longer in the minors than they should than to see them come up and play meaningless games. It's hard to be patient, but it's very important. Jackson when 0-for-4, lowering his batting average to .254. The good news is that he didn't strike out. Travis Wood got the start and went 6.1, giving up four earned runs and picked up the loss.
DOUBLE-A: Tennessee 7, Huntsville 9
Late runs allowed by the bullpen foiled the Smokies as they couldn't generate a winning streak. Ty Wright, since being demoted from AAA, is hitting .444 / .444 / .888 in his three games with the Smokies thanks to a 2-for-5 night. It actually made his average go down. I like Wright. He's one of the prospects in the system I'm rooting for. I'm hoping he doesn't get discouraged with the demotion as he's spend the last few years splitting time between AA and AAA. Only other interesting note is that Nate Samson went 4-for-4 with a pair of doubles and a home run.
HIGH-A: Daytona 2, Tampa 5
My last recap there was a Matt Szczur is alive alert. Unfortunately he flat lined last night going 0-for-4 and lowering the average to .176. It's been a bit of a disappointing start for our center fielders as a whole with this organization. Marlon Byrd has struggled. Jackson has struggled in AAA and Szczur has struggled terribly. I still believe in all three, but I've not been encouraged. On a positive note, we'll throw out some bullpen love to Ty'Relle Harris, who has pitched 8.1 scoreless innings so far this season over five appearances out of the pen for the Cubs.
LOW-A: Peoria 4, Great Lakes 11
Oliver Zapata is off to the tremendous start to the season in his five games played. He's gone 10-for-19 with 2 doubles, 2 home runs, 4 RBI, and 5 runs scored thanks to a 3-for-5 night last night in the losing effort. Ben Wells made the start for the Chiefs and has not looked good this season. He got hit hard again, allowing 10 runs, six earned, on nine hits. He walked one and struck out three. On the season he's 0-1 with a 6.28 in three starts. In the bullpen, my man crush, Kyler Burke pitched 3.2 innings in relief and allowed one earned run. That was just his second run allowed in 11.1 innings out of the pen. He's struck out nine and walked just two. He's showing good development as a middle of the pen guy that can pitch more than one inning in an outing. Plus he can hit as a converted OF.