Farm Report: April 13 – Rizzo with two more HRs
Written by Norm, Posted in General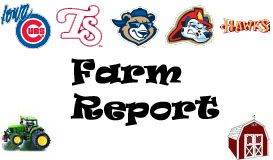 Triple A – Iowa 6, Round Rock 5

Anthony Rizzo and Welington Castillo just keep on hitting. Rizzo put the I-Cubs up 2-0 in the first inning with his 4th home run of the season. Castillo added a solo shot in the 4th; his second of the year, and then Rizzo did it again, hitting his 5th homer in the 6th inning. Brett Jackson would get on the board with a solo home run in the 7th, his first of the year. Josh Vitters was hitless for the first time this year. Jay Jackson started and ended up going five innings and giving up two runs. The bullpen nearly blew it in the 9th by giving up three to the Express, but Blake Parker came in to close the door.
Double A – Jackson 1, Tennessee 4

Tennessee had the luck of running into 2011's #2 overall draft pick, Danny Hultzen. Tennessee's offense:
1st inning: K, K, BB, flyout
2nd inning: K, K, K
3rd inning: groundout, BB, K, groundout
4th inning: 2B, groundout, K, K
5th inning: groundout, groundout, K
While Hultzen was mowing down the Smokies, Dae-Eun Rhee kept Jackson scoreless. He gave up six hits, but no walks, four K's and a pick off helped keep runs off the board…until the 6th when lead off man Daniel Caroll led off with a homer. Rhee would get the next three batters but was now down 1-0. A bit of a rally began for the Smokies in the 6th when Hultzen dropped a toss from the 1B allowing Logan Watkins to reach base. Jae-Hoon Ha followed with a walk. After a "productive out" by Justin Bour, Hultzen was pulled. Reliever Seven Hensley immediately gave up a 2-run double to Rebel Ridling which would end up being the winning run.

High A – Daytona 8, Tampa 4

Daytona would score seven runs before Tampa got one on the board. Five players would have two hits in the game for Daytona but Matt Szczur and Ronald Torreyes had none, to continue their early season struggles. Szczur did walk and come around to score in the 8th, but was replaced in left field in the bottom of the inning. No idea on the reason for that yet.
No one notable pitched for the Cubs…Eduardo Figueroa got the start, went five innings, only gave up a run on three hits and a walk.
Low A – Peoria 2, Wisconsin 5

19 year old Marco Hernandez was dropped to seventh in the lineup and responded by going 2-3 with a homer, double, walk, and stolen base. But the team was 0-7 with runners in scoring position and Chiefs starting pitcher Jose Rosario gave up four runs in five innings. Taiwan Easterling was 0-4 to drop his batting average to .048! Zeke DeVoss was hitless with a walk and made his third error at second by missing the throw on a stolen base attempt.
Prospect Snapshot
Brett Jackson (CF):              1-5, HR, 0BB/2K
Anthony Rizzo (DH):           2-4, 2HR, 0BB/1K
Welington Castillo (C):        3-4, HR
Josh Vitters (3B):                  0-4
Matt Szczur (LF):                  0-3, 2BB/1K, CS
Marco Hernandez (SS):      2-3, 2B, HR, 1BB/0K
Jay Jackson:                         5IP, 2ER, 5H, 1BB/4K
Dae-Eun Rhee:                    6.1IP, 1ER, 6H, 0BB/4K