The Farm Report: April 12
Written by Norm, Posted in General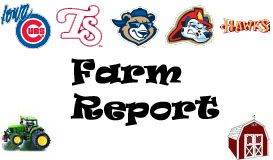 Triple A – Albuquerque 2, Iowa 8

Josh Vitters had an excellent first week to the Iowa Cubs season. He added two more hits on Thursday to bring his batting average up to .458 on the young season. He's even got three walks already. It's too early to tell if there is any real progress, but it's nice to see anyway. Vitters two hits were part of Iowa's 14 hit barrage on the day, five that came in a five run second inning and Iowa never looked back. Anthony Rizzo has also had a great start to the season and kept it up with three more hits bringing his line up to 387/424/677 on the year. Dave Sappelt hit his first homer of the year and knocked in three runs on the day. Chris Rusin (1-1) got the start and pitched a solid seven innings, giving up six hits, two earned runs, with two walks and one strikeout. Brett Jackson and Welington Castillo had the day off.
Double A – Jackson 4, Tennessee 1

Starting pitcher Dallas Beeler pitched six innings and only gave up one run on three hits and a walk while he struck out two but didn't factor in the decision. Alberto Cabrera gave up three earned runs in the 8th inning as Tennessee lost to Jackson 4-1. The Smokies lone run came from an RBI single by shortstop Elliot Soto, who had three hits on the day. Michael Burgess chipped in two hits but Tennessee couldn't string anything together.

High A – Daytona 4, Tampa 5

Daytona's offense could only muster 5 singles on the night with three coming in a three run second inning giving the Cubs a 3-2 lead. They'd each add a run making it 4-3 Daytona going into the bottom of the 8th when Tampa struck for two runs, the 5-4 lead, and the eventual 5-4 win. Hayden Simpson started and threw 5.2 innings while giving up seven hits, three earned runs, with one walk and strikeout. He was able to get 11 ground ball outs to only four in the air, which, I guess, is something. Matt Szczurwith another walk and stolen base are about the only positives from the position prospects at the level.
Low A – Peoria 2, Wisconsin 4

Bad news as Reggie Golden was injured in the ninth inning rounding 1st. After crushing a ball off the centerfield wall, Golden hurt his leg and had to crawl back to first. He couldn't put any weight on it and was helped off the field. Doesn't sound very good. A lot of slow starts on the offensive side for the Chiefs this season. Marco Hernandez and Taiwan Easterling are both hitting under .090. Golden and Paul Hoilman are under .200. Peoria was able to collect six singles yesterday, but that wasn't enough to outscore Wisconsin. Patrick Francescon pitched 5.2 innings and gave up 3 earned runs, six hits, no walks and three K's. He also gave up two home runs. Austin Reed finished the game by striking out four in 2.1 innings but giving up an unearned run, a hit, and a walk.
Prospect Snapshot – Year to Date
Anthony Rizzo: 387/424/677, 3HR, 2BB, 7K
Brett Jackson: 276/382/414, 0HR, 4BB, 10K, 1/0 SB
Welington Castillo: 357/500/714, 1HR, 3BB, 4K
Josh Vitters: 458/500/500, 0HR, 3BB, 2K
Dave Sappelt: 207/233/379, 1HR, 1BB, 5K
Matt Szczur: 167/333/167, 0HR, 5BB, 5K 3/1 SB
Ronald Torreyes: 217/280/261, 0HR, 1BB, 5K
Zeke DeVoss: 280/357/360, 0HR, 2BB, 6K, 0/1 SB
Reggie Golden: 182/250/182, 0HR, 1BB, 7K, 1/0 SB
Marco Hernandez: 095/087/095, 0HR, 0BB, 3K
Randy Wells: 12IP, 5.25ERA, 8H, 3BB/7K, 2HR
Travis Wood: 6IP, 4.50ERA, 4H, 1BB/6K, 0HR
Trey McNutt: 7.2IP, 0.00ERA, 4H, 6BB/8K, 0HR
Nick Struck: 12IP, 2.25ERA, 10H, 3BB/15K, 0HR
Hayden Simpson: 10IP, 3.60ERA, 12H, 1BB/3K, 2HR
Ben Wells: 4IP, 2.25ERA, 7H, 0BB/3K, 0HR