The Farm Report: April 11
Written by Joe Aiello, Posted in General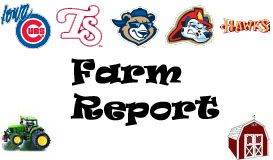 TRIPLE-A: Iowa 5, Albuquerque 1
The Iowa Cubs rebounded after yesterday's loss with a start from Casey Coleman, who picked up his first win of the season going five innings and allowing just one run on three hits while striking out three. He did walk three guys, but control hasn't been an issue so far. Those walks were his first on the year. For Coleman, this was a much improved start over the last time out when he gave up two home runs in five innings of work and took the loss. I'm rooting for Casey. I liked watching him pitch in the Majors, but there is no doubt in my mind that he wasn't ready at the time last year he was called upon to fill in for all the injuries the team suffered last season in the rotation. He needs to continue to develop this year in Iowa. Offensively, the Cubs got off to a quick start with a pair of runs in the 2nd and a pair in the third. They never looked back from there. Wellington Castillo had a great day, going 3-for-3 with a double, home run, an RBI, a walk, and three runs scored. He also gunned down the only Isotope runner that attempted to steal on him. With Geovany Soto off to a less than stellar start with the big club, I wouldn't be the least bit surprised if we start to see guys like Castillo and Steve Clevenger begin to push the envelope for increased playing time. We've seen it a little with Dale Svuem's comments about Clevenger deserving more time and it was proven in yesterday's game when Clevenger pinch hit in a key situation for Marlon Byrd and delivered a double. It definitely bares watching. Anthony Rizzo went hitless in his four at bats, but Josh Vitters continues his hot start with another two hits that led to two RBI.
DOUBLE-A: Tennessee 1, Jackson 2
No offense, but the Smokies need to start playing better on offense. Sorry, I had to make the pun. Tennessee got beat due to a lack of hitting. Trey McNutt made his 2nd start of the season and got through four innings plus one batter in the 5th using 77 pitches. I worry that his future will be in the pen as he doesn't seem to work deep in ballgames. He's got good stuff, but if he can't use it efficiently, he can't be a productive member of the rotation, especially not right now with the Major League team's bullpen so icky. I like him. I think he's worth tracking, but I don't know that I value him as a starter. If I could get someone to pay starter value for him in a deal, I'd include him. Nonetheless, his four innings were really good last night, allowing just two hits while striking out five and walking three. The two Jackson runs came at the hands of the pen.
HIGH-A: Daytona 1, Dunedin 7
Sheesh, not much to report here. Dunedin crushed our starting pitcher, Eric Jokish, which brought the Daytona losing streak to four. What I liked about Jokish's start was that despite giving up a pair of two run home runs and a total of five runs, he pitched through the 6th inning for the second straight start. He's been an innings eater so far since being drafted out of Northwestern in the 2010 draft. In the field, the Cubs committed four errors, two by shortstop Arismendy Alcantara and two by catcher Sergio Burruel.
LOW-A: Peoria 5, Quad Cities 3
The Chiefs picked up home win # 1 last night. Michael Jensen allowed three runs in six innings of work to pick up the win and run his record to 2-0 on the young season. On the night he tossed 13 ground balls and just 3 fly balls. Andrew McKirahan picked up the first save of his young career with a scoreless 9th inning of work. At the plate, first baseman Ryan Cueno hit a three run homer in the 4th to put the Chiefs out in front for good. On the night he was 2-for-3 and was hit by a pitch.