The Farm Report: April 10th
Written by Joe Aiello, Posted in General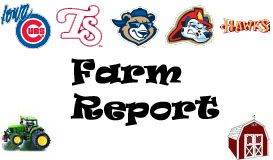 TRIPLE-A: Iowa 5, Albquerque 6
Randy Wells made start # 2 on the season, pitching six innings while allowing four earned runs on six hits. He didn't walk anyone and struck out five. In both starts so far, he's pitched six innings, though his first start was a little stronger. As long as he can hold his own and pitch six or seven innings consistantly, he should be the first name called in the event of an injury to the starting rotation with the big club. Unfortunately for the Cubs, the bullpen coughed up a run in the 9th courtesy of Jeff Beliveau which brought the Cubs back to .500 at 3-3. Other interesting performances of note: Josh Vitters went 2-for-3 with a walk…yes…a walk….and drove in a run. On the year, Vitter is hitting .412 / .500 / .412. The odd slash line is due to the fact that all of Josh's hits so far this season have been singles. Tony Campana picked up a pair of stolen bases out of the leadoff spot, and Adrian Cardenas went 2-for-4 with a double, home run and a pair of RBI. Finally, super prospect Anthony Rizzo did not hit a home run. What's up with that?
DOUBLE-A: Tennessee 1, Jackson 5
Not much to report in Tennessee last night. Jackson starter, Andrew Carraway, picked up his 2nd win of the season by tossing seven innings of two hit, one run ball with the run coming on a solo shot by Jim Adduci in the 1st. After that, it was lights out for the Smokies bats. Nicholas Struck took the hard luck loss, going six innings and allowing two runs on six hits and striking out five. His record drops to 1-1 with an ERA of 2.25 in his first two starts of the season. ***bloated ERA alert*** – you might remember Daniel Berlind, who in his first outing gave up eight earned runs in 0.2 IP which caused an ERA of 108.00. His outing last night helped him get that ERA down to a much more respectable, 48.60.
HIGH-A: Daytona 2, Dunedin 4
Austin Kirk got the start for the Cubs and put up 5 IP, 4 H, 3 K, 2 BB and 0 ER. He picked up a no-decision in the outing and runs his ERA to 1.93 in his two starts this season. He left with the lead and was in line for the win but was not supported offensively or by the bullpen as Tony Zych coughed it up with four runs (only one of them earned) in the 8th. Offensively, Matt Szczur got his batting average to the Mendoza line with a 2-for-5 night out of the leadoff role. My concern is the strikeout rate early on for Szczur is at 25%. That needs to improve. He's not usually much of a strikeout guy so I'm sure it will, but it bears watching.
LOW-A: Peoria 1, Quad Cities 7
The first batter for the Chiefs, Zeke DeVoss, lined a single off the head of Quad Cities pitcher Kyle Hald. Hald would stay in the game to finish the inning, but would not come out for the 2nd. You would think that getting into the bullpen that early, especially a minor league bullpen, would lead to an offensive barrage. Instead, the Quad Cities pen combined for eight innings of two hit, shutout ball. Willengton Cruz (not to be confused with Wellington Castillo) got the start and sucked again. 3.2 IP, 7 H, 5 R (2 earned). He takes the loss and has an ERA of 12.46 after two starts. He spent last year in Boise and pitched well in 13 starts. The year before that he played in the Dominican Summer League and had a good showing there. So far, not so good. The Chiefs have scored first in all five ballgames so far in 2012 and DeVoss has hit safely in all five games.