The Farm Report: April 9
Written by Norm, Posted in General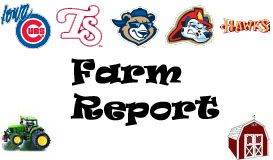 Triple A – Albuquerque 6, Iowa 10
The Iowa Cubs slugged their way to win number two, led by Anthony Rizzo's two home runs. Rizzo would tally three hits on the night, bringing his average up to .474 in the early going. The I-Cubs exploded for six runs in the third inning including Rizzo's first homer of the night, coming with #3 hitter Luis Valbuena (#3 hitter?) on base. After Welington Castillo struck out, the Cubs went double, double, single, home run; this one by the pitcher, Travis Wood. Rizzo's second homer was a solo shot in the sixth. Adrian Cardenas and Josh Vitters each contributed two hits and Vitters had a throwing error from third base. Travis Wood had an OK start; going six innings and allowing three earned runs with one walk and six K's while picking up the win.
Double A – Tennessee 3, Chattanooga 2
Elliott Soto lined a triple in the top of the ninth inning to knock in pinch runner James Adduci to give the Smokies a 3-2 lead. Frank Batista would lock down the win and his third save of the season while striking out two in the bottom of the inning. Brooks Raley got the start and went 6.1 innings and the bullpen didn't give up a hit. The offense was led by center fielder Jae-Hoon Ha and left fielder Rebel Ridling who each had two hits. Ridling added a walk in the ninth which led to Adduci's game winning run.
High A – Dunedin 8, Daytona 7
While Anthony Rizzo is tearing it up early in AAA, the other young player the Cubs received from the Padres had a rough beginning to his Cub career. Zach Cates got the nod and was unable to get an out in the second inning, although he was able to give up six earned runs off of seven hits and four walks. The defense committed five (5!) errors including three by third baseman Greg Rohan. The offense made a valiant effort but came up a run short. Rohan had four RBI with a home run and shortstop Arismendy Alcantara chipped in a single and a double. Matt Szczur led off and went 1-3 with a walk and two runs scored.
Low A – Quad Cities 8, Peoria 3
Quad Cities and Peoria went to the ninth inning ties up at three, but Wabash, IL native Bryce Shafer enters the game. The following ensues:
Hit by pitch
Wild pitch
Walk
Hit by pitch
Sac Fly
Single
Single
Double
Pop out
Wild pitch
Groundout
Five runs score, Quad Cities wins 8-3.
Is Peoria already out of pitchers so that they can't save the guy? Yikes. The hitter of the night for the Peoria Cubs was catcher Rafael Lopez. He went 3-4 with a double. Interesting players, but most are off to a slow start to the season. Kyler Burke continues his transformation from outfielder to pitcher and threw four good innings in relief of starter Ben Wells.
Prospect Snapshot
Anthony Rizzo (1B): 3-3, 2HR, 3RBI, 1BB, 0K
Brett Jackson (CF): 1-5, 0BB, 2K
Josh Vitters (3B): 2-4, 2RBI, 0BB, 1K, throwing error
Logan Watkins (2B): 1-4, CS
Jae-Hoon Ha (CF): 2-4, outfield assist
Matt Szczur (CF): 1-3, 2R, 1BB, 0K, SB
Ronald Torreyes (PH): 1-1
Zeke DeVoss (2B): 1-5, 1R, 0BB, 1K, CS
Marco Hernandez (SS): 1-5, 1R, 0BB, 1K
Reggie Golden (LF): 1-4, 1R, 0BB, 1K
Travis Wood : 6IP, 4H, 3ER, 1BB, 6K
Ben Wells: 4IP, 7H, 1ER, 0BB, 3K