Season Player Preview: Darwin Barney
Written by Joe Aiello, Posted in General
On May 1, 2011, a lot of Cub fans thought Darwin Barney might be the Cubs' second baseman of the future.  In his first 89 plate appearances, Barney put up a .326/.351/.449 triple slash.  Barney failed to put up a batting average above .296 (May), an on base percentage above .323 (July) and a slugging percentage above .391 (July) in any other month of the season.  He finished the season with an underwhelming .276/.313/.353 line.
The good news about Barney is that he is a very strong defensive player.  In his first year playing second base full time after playing shortstop in the minors, both FanGraphs and Baseball Prospectus rate Barney as a well above average defender.  FanGraphs said that Barney posted a 5.8 UZR/150, while Baseball Prospectus found that his defense was worth 7.8 runs above average.  It would not be a surprise to see him only get better defensively.
You can see the bad news in the first paragraph, though.  Not only does Barney not walk (3.9% in 2011), but he also hits for absolutely no power (.078) ISO.  Considering he is 26, the odds of Barney adding any significant power are slim.  And, as his heat maps show, Barney is able to hit with power in very little of the zone.  This is the league average isolated power (ISO) map for all players in the National League last season.  The redder the area, the more power is represented.
And this is Darwin Barney's ISO heat map: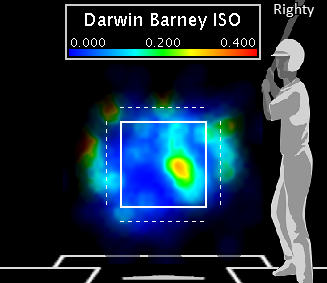 As you can see, Barney hits for any power in a very small part of the zone, middle in just below the waist.  It is just really unlikely that he will be able to improve this significantly at his age.
But can Barney start walking more?  Or do pitchers just pound the zone against Barney, knowing he is unlikely to punish them?  This is the league average heat map for swing rates from 2011:
And this is Darwin Barney's swing rate heat map from last season:
Barney swings outside the strike zone at a near or above a fifty percent rate two places where he hits for no power: pitches that are low beneath the zone, and pitches off the plate inside.  Walking more is in Barney's control.  It is not a matter of pitchers only throwing strikes to him.  The problem is that no one has figured out how to actively teach players to be more patient at the plate.
ZiPS projects Barney to post a .273/.311/.352 triple slash in 2012.  Unless Barney can figure out how to draw more walks, this is probably about right.  The good news for Barney is that his defense will almost certainly give him the majority of the starts at second base this year.  The three Cub pitchers who are guaranteed to be in the rotation this year, Matt Garza, Ryan Dempster and Paul Maholm, all rely on inducing ground balls for success (at least if you believe Garza's ground ball rate from 2011 was intentional).  Randy Wells and Chris Volstad also need to induce ground balls to be successful.  Considering the defensive deficiencies of Jeff Baker, Blake DeWitt and Adrian Cardenas, the Cubs will need Barney's glove and can live with him batting eighth in a year where competing in the division is little more than a wish upon a shooting star.
The question for Barney is long term, though.  If he can get on base more often, he can be a long term starter in the middle infield in the Majors for a long time.  If he cannot, his longterm outlook is as a bench player.