Morning News: Thousands of Words (Mostly in Pictures)
Written by Jeremiah Johnson, Posted in General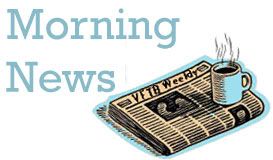 Burning Rubber  Opening up with NASCAR news might not be a great way to hold your attention this morning, but I think this falls into the must-see category, so bear with me.  After more than twenty-four hours of rain delays, the Daytona 500 got rolling around 7:00pm EST last night.  Several wrecks and delays held up the progress of the race, but things got really out of control when Juan Pablo Montoya lost control of his car and slammed into a track-drying trailer full of jet engine fuel.  Click here for a few more details and some crazy GIFs of the fiery crash.  Fun fact: apparently they used laundry detergent to smother the fire.
Red Sox Nation is Now a Dry County  In the wake of the late-season collapse that cost Terry Francona his job and paved the way for the Cubs to hire Theo Epstein, the Red Sox recently announced a ban on clubhouse drinking.  Josh Beckett, Jon Lester, and other players admitted to drinking beer during games when they weren't playing, and faced significant criticism after their flame-out to end the season.  The Boston front office and new manger Bobby Valentine decided to remove any further in-game temptation from this year's team with their own small-scale prohibition.  Francona's not impressed and said yesterday that he thinks it's nothing more than a PR move.  No word yet on which player will step up Al Capone-style to corner the illicit booze market with moonshine and toilet wine, but it won't be Jason Varitek, who plans to announce his retirement Thursday.
Keeping the Kings  A big congratulations to the city of Sacramento.  Less than a year ago it looked almost certain that the Kings would leave northern California, most likely for Anaheim.  But a last minute agreement between the Maloof brothers who own the team, the city, and the NBA has forged a deal to build a new stadium that will keep the Kings in Sacramento for the foreseeable future.  After the Sonics were so unceremoniously stolen from Seattle, I'm glad to see a different ending to a similar story for Kings fans–and I don't even like basketball.
Cubs Roundup  Spring Training is almost in full swing, so you can expect daily reports like this one from Tribune malcontent beat writer Paul Sullivan.  In short, Kerry Wood had a rough day, first getting eliminated from the Cubs bunting championship by manager Dale Sveum, and then hitting Starlin Castro on the wrist during live BP (Castro's fine).  Sullivan also put together a photo montage covering the aftermath of the accidental plunking.  Also, Cubs DH LF Alfonso Soriano doesn't like the rumors of the team's attempts to trade him this past offseason.  Someone needs to remind Soriano that he'll make his guaranteed $54M no matter whose lineup he's crippling.
VFTB Bidness  The Boys of Spring blog is giving awards to other Cubs blogs, and View From the Bleachers has been nominated in several categories, including the fan favorite category, called The Ryno.  We're not gonna win it, but you can head over here and limit the scale of our public humiliation.  Or just click over and have a laugh at our utter lack of popularity in that particular corner of the Interweb. Also, don't forget to enter the VFTB NCAA bracket contest. See details here.
Finally, Cubs pirate pitcher Jeff Samardzija has a new headshot, and it's a doozy.  Enjoy.