Morning News: The Return of Baseball and the Mystery of Human Hibernation
Written by Jeremiah Johnson, Posted in General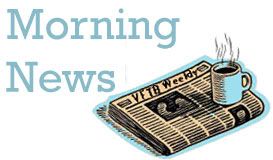 I realize we're still several weeks away from meaningful baseball, but the ON switch for the 2012 season has been flipped.  Sunday the Cubs' pitchers and catchers reported for duty, and most of the rest of the team will trickle in over the next few days.  While nothing that happens in the next month-and-a-half will do much to raise our modest hopes for the season, there's a certain amount of cautious optimism and excitement to be had as the Cubs' rotation and lineup begin to take shape.  We'll have all season to gripe about what and where we're lacking–for now, let's bask in warmth of another new spring.  Baseball is back!
But it's not all good news–I was shocked a tad surprised to find out the other day that our Blogfather Joe Aiello is not a fan of Spring Training.  I have half a mind to launch a Kickstarter account for us all to chip in and send Joe to Mesa next month so he can witness firsthand the sun-drenched majesty of Spring Training.
On a scale of Joe-to-10, where would you put your own excitement for the start of Spring Training?
Cubs News Roundup  Grantland's Jonah Keri has been gearing up for the season by previewing a new team every day, starting with the NL Central.  It's fitting that his Cubs preview went up on President's Day, since the Cubs look to be taking the whole season off…  Gene Wojciechowski has some thoughts on the new direction for the Cubs in 2012, including their new in-house philosophy and purpose statement that Joe wrote about yesterday morning.  Called "The Cub Way," the guide will not be distributed outside the organization, which only makes me all the more determined to get a copy for myself…  Blake DeWitt accepted his assignment off the 40-man roster, and will try to win back his spot this spring.  I don't know enough about all the other infielders in camp to gauge his odds of making the team, but I'm optimistic he won't be one our best options when April rolls around… Jeff Samardzija hopes to make the Cubs' starting rotation.  Unless he's figured out how to throw under thirty pitches across five-to-seven innings, I don't like his chances.
UPDATE: The Cubs have agreed to send right-handed pitching prospect Chris Carpenter to the Red Sox along with a player to be named later as compensation for Theo Epstein.  Click the link to see Theo's statement.  ESPN Chicago has more details.
It's Only A Flesh Wound  San Fransisco catcher Buster Posey is recovering from his horrific knee injury last season and plans to catch the Giant's spring opener.  The article points out that Giants manager Bruce Bochy has ordered Posey not to block the plate for the time being, and that he's lobbying the MLB to change the rules regarding plays at the plate to better protect catchers.
Is The G.O.A.T. Heading Out To Pasture?  Yankee closer and future first ballot Hall of Famer Mariano Rivera may be ready to hang it up at the end of the season, but so far he's not telling.  On a team known for prima donnas and me-first superstars, I always thought Rivera was unusually humble and likable.  I almost never cheer for the Yankees (they do occasionally play the Cardinals), but it will still be a bummer to see one of the game's most consistent and dominant pitchers call it quits.
Mannyball  After spending big last week on an unproven prospect, the Oakland A's made another mildly head-scratching move Monday when they signed Manny Ramirez to a minor league deal.  Ramirez will still have to sit out his fifty-game suspension for his second violation of the MLB's drug policy, so you've got until mid-May to corner the market on dreadlocks wigs in Oakland.
I Do Not Think It Means What You Think It Means  Apparently the ESPN headline faux pas regarding Jeremy Lin was an honest mistake.  I'm inclined to believe the guy, especially since I know how poorly chosen my own words become the later it gets.
One Man's Hibernation Is Another Man's Debt Solution  You can't run away from your mistakes, but apparently you can hide from them for a couple months in your car/igloo, surviving on snow, cigarettes, and comic books.